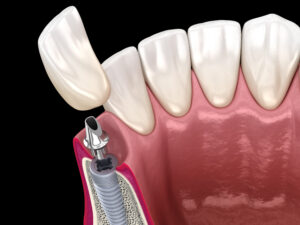 When you have lost a tooth, or suffered from the loss of several teeth, then the health and function, as well as the beauty, of your smile can suffer. To avoid major complications and restore your ability to smile with confidence, you need a dental prosthetic. In today's blog, your Leawood, KS, dentist looks at the different prosthetics we offer for those with missing teeth, including advanced dental implants.
The Causes of Tooth Loss
Why do we lose our teeth? This could occur for several different reasons. For example, if you have an untreated cavity, or a serious dental infection, you could lose the tooth or it could be treated to safeguard the rest of your smile. A serious injury could knock one loose or out completely. However, the most common cause is periodontitis, the advanced stage of gum disease. The treatment and prosthetic we will recommend will likely depend on the factors behind your tooth loss, as we may need to treat these underlying oral health issues before we move forward with securing a new smile!
The Impact on Your Smile
You should always seek treatment for your missing teeth, as lack of action could allow the issue to grow worse and threaten your overall oral health. For example, the gap could mean surrounding teeth actually drift from position, which leads to misalignment and a risk of tooth decay and gum disease as a result. The strain on your bite balance and jaw joints from missing teeth could increase the risk of TMJ disorder and bruxism (teeth grinding) as well. You could have trouble eating your favorite foods and clear speech could be difficult as well. The body will also suspend the flow of calcium and phosphates to the area around the missing roots, which means the jawbone loses mass and density, causing further tooth loss and a prematurely aged appearance too!
Planning Replacement
When you come to us with missing teeth, we will take a close look at your smile with advanced imaging systems, so we can assess the extent of your tooth loss and the underlying factors behind it. We will then create a treatment plan to manage the concerns and start the process of replacing your missing teeth. Every smile is unique, which means every smile needs a custom approach to tooth replacement, ensuring the finished prosthetic not only looks natural, but fits comfortably and provides a balanced bite.
Dental Bridges
For cases of one to three missing teeth in a row, our team could provide a dental bridge. The prosthetic contains new teeth, known as pontics, with crowns attached to each end. The crowns are attached to the abutment teeth on each side of the gap, securing the new teeth firmly in place. We custom-make the prosthetic from durable and lifelike ceramic, which not only has the ability to be color matched to blend with your smile, but can handle daily bite forces and pressure too. The prosthetic lasts about 10 to 15 years before requiring replacement.
Dental Implants
Dental implants not only fill the gap in your smile, but they prevent the loss of mass and density in the jaw, so you avoid an aged appearance and further tooth loss. This is because the implant portion acts as a new root. Made from biocompatible titanium, this is inserted directly into the jawbone, and the body sees this as a new natural root. The flow of calcium and phosphates resume, and the root can stay firmly in place for decades to come, maybe even a lifetime. Once the placement area heals, we will attach an abutment that extends above the gum line. We then connect a custom-made dental crown to this to offer a natural looking tooth that looks and functions like a real one.
Implant Dentures
We could also use multiple dental implants to support a set of dentures, full or partial. Implant secured dentures don't need to be removed for cleaning and soaking, and instead are fixed in place like a natural set of teeth. We take steps to ensure they look natural, and they restore your ability to eat your favorite foods and smile with confidence. They never slip when you eat or drink, and again, the implants ensure your new set of teeth can last for decades to come, while removable dentures require replacement after only 5 to 10 years.
If you have any questions about treating tooth loss, then contact our team today to learn more about prosthetic dentistry.
Address Your Lost Teeth Today
Contact Dreem Dentistry in Leawood, KS by calling 913-681-5500 to learn more about replacing your lost teeth with dental prosthetics, including lifelike and long-lasting dental implants.