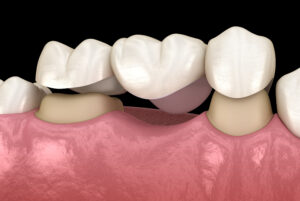 Though you may think losing a tooth as an adult is the worst thing that can happen to a person's smile, on the contrary, there are several factors that could be worse. For instance, a permanent tooth may not come back, but removing an infected tooth prevents the infection from affecting surrounding teeth and wreaking even more havoc on your oral health. In today's blog, your Leawood, KS dentist takes a look at your treatment options for smile rehabilitation and discusses the advantages of each based on your unique needs.
Why Pursue Dental Implants?
It goes without saying that the last thing a person wants to experience is the loss of one or more of their natural teeth. In fact, your dentist's primary goal is to prioritize your oral health and, subsequently, preserve your natural teeth. In some situations, however, your tooth is either considered beyond saving or needs to be removed in order to mitigate infection.
Though removing a compromised tooth can cause an infection to improve significantly, it is also important to know that functional and structural issues can arise when a gap is not filled for some time. You see, your tooth crown and root create a system that helps support the pressure of your regular bite. When a tooth is missing, the others not only have to accommodate the missing structure, but it leads to greater chances of experiencing an infection or other concerns. In cases such as these, your dentist might recommend the help of a dental implant.
A dental implant functions in a similar manner to the crown and root system thus restoring your functional and structural needs. To learn more about this process and how our team can help, give us a call.
Bridges for Noticeable Gaps
Tooth loss can occur in a number of different ways and impact people individually. While a dental implant might be a great fit for missing a single tooth, missing a span of them in a row can pose greater complications. Fortunately, restorative treatment can help.
Dental restorations such as a dental bridge are created from highly lifelike dental porcelain and aim to span a significant gap. They can range from one to several pontics, and we will work with you to address your unique needs. Contact our office to learn more today.
A Denture Addresses Total Tooth Loss
In situations where a person has lost the majority or all of their teeth, the likely best option includes dentures. Dentures utilize your smile measurements and are carefully crafted to replicate your missing teeth. Our team offers partial denture solutions as well as complete sets.
Give Our Team a Call
Contact Dreem Dentistry in Leawood, KS by calling 913-681-5500 to schedule your next appointment with our team and learn more about the different options you have for replacing missing teeth.