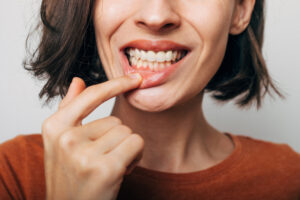 Taking care of your smile is a lifelong process, and one that often needs an update to reflect current best practices. Indeed, your teeth and all of the other structures contained within the oral cavity not only serve important roles that aid in functional tasks, but they also contribute to your overall oral health. With this in mind, it is essential you practice well-rounded prevention, meaning your routine should be more than just brushing your teeth. In today's blog, your Leawood, KS dentist discusses the need for regular periodontal care and what you should be on the lookout for to prevent gum disease.
Protection for Periodontal Tissues
It goes without saying that your smile is one of your greatest assets. Not only is it one of the first attributes a person notices about you, but it is essential for a host of routine tasks and functions. Without your teeth, biting and chewing is very difficult. Without your gums, however, your teeth would be susceptible to significant oral threats.
You see, your oral cavity houses several different structures that work together in a symbiotic manner, and ignoring maintenance for many of these structures will only lead to health complications. Though tooth decay is one of the most common concerns out there, it is important to recognize that it is similar in frequency to that of gum disease.
Periodontal infections occur when oral bacteria that lurk near the gum line make their way beneath the tissues and attach to your teeth roots. From here, they cause plaque deposits to form between your tissues and roots, essentially causing a rift between the two. To learn more about this process and how our team can help, give us a call today.
Signs and Symptoms
Gum disease and infection not only negatively influences your oral health, but it will only worsen with time. An individual may be experiencing some form of gum infection if he or she notices that the gums have become puffy or swollen, if the color of the tissues has changed to a red or purplish color, or if the tissues bleed excessively.
Other signs or symptoms of this phenomenon include gum sensitivity, bad breath, and pus between your teeth and gums. Contact our office today to learn more about your treatment options and how we can help.
Other Ways to Stay on Top of Care
When a person experiences symptoms such as the ones described above, it may be time to consider a periodontal cleaning, also known as scaling and root planing. Aside from in-office treatment, the number one way to stay on top of periodontal health at home is to practice flossing regularly.
Learn More Today
Contact Dreem Dentistry in Leawood, KS by calling 913-681-5500 to learn more about the different ways periodontal infection influences your oral health, and schedule your next appointment with our team.