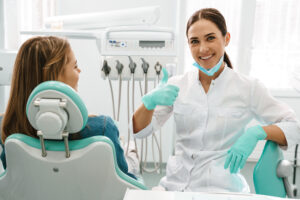 Whether you are aware of it or not, your smile's health is the most important factor to consider when seeking dental treatment. Just because it is the most important factor, however, that does not mean it is the only one that is looked at. In fact, sometimes prioritizing your health may come at the expense of another component, such as needing an extraction to address significant infection or emergency situations. In today's blog, your Leawood, KS dentist takes it back to the basics and explains why it is so important to attend your routine checkup and cleaning appointments and how our team can help.
Keeping Your Smile Healthy
From a very young age, your parents or guardians likely emphasized the need to brush your teeth regularly. Indeed, your teeth comprise a portion of your oral health as well as helps you accomplish functional tasks such as biting, chewing, and eating. When a tooth experiences infection, it not only targets that one structure, but threatens your entire smile's health as well.
In order to prevent infection and other concerns from settling in, you want to make sure you are practicing a well-rounded preventive routine. This process includes more than just brushing your teeth, and no routine is complete without attending your regular dental examination and cleaning.
Because your oral health is comprised of the many components within the oral cavity, your preventive routine should take these factors into account as well. This includes taking care to brush, floss, rinse with mouthwash, and attend dental exams. To learn more about this process and how you can get started with our team today, give us a call.
What to Expect from Your Visit
Contrary to popular belief, your dental checkup is much more than just a cavity hunt. It actually serves an important purpose in allowing our team of trained professionals the opportunity to examine your smile for any signs of damage, harm, trauma, or other concerns.
Following your checkup, we will provide a detailed dental cleaning so as to remove difficult deposits of plaque and tartar that may have formed. These deposits form in the difficult-to-reach areas of the mouth, and brushing alone is often not enough to reach them. For more information about the importance of your checkup, give our team a call today.
Schedule Before the New Year
Your dental appointment serves an important role in helping you maintain a healthy and happy smile for life. As 2022 is coming to a close, make sure you reach out and schedule your end-of-year visit before offices close for the holidays. Our team is more than happy to help you achieve your smile goals.
Learn More Today
Contact Dreem Dentistry in Leawood, KS by calling 913-681-5500 to schedule your next appointment with our office and learn how your regular preventive checkup can help keep your smile healthy for life.