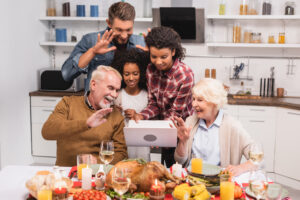 We have all survived the holiday that makes most dentists shudder: Halloween. This is a fantastic holiday that holds a lot of fun for people of all ages, but it is undoubtedly one of the worst ones for teeth — particularly those of children. Yes, any of us can have our teeth damaged from eating too much candy, but children often lack the impulse control to put their bags down after just a few pieces. We hope that your kids made it through the holiday without damaging their teeth too much. Although this holiday has passed, Thanksgiving will be here very soon, and while its traditional holiday foods aren't too bad for your teeth, it is still important to be aware of the impact they can have. In today's blog, your Leawood, KS dentist talks about some of the quintessential components of the Thanksgiving feast and how each can potentially affect your smile.
The Centerpiece: Turkey
When you think of Thanksgiving food, Turkey is typically the dish that comes to mind. Luckily, in addition to being the staple of the feast, it is also the most healthy! It is packed with protein and, with a good cook, lots of flavor. Moreover, it has no real effect on the health of your mouth. About the worst it can do is get caught between your teeth, but that is easily mitigated with some dental floss and mouthwash. It is always a good idea to floss or brush if you have food between your teeth, so this is a good habit to maintain all year long. 
Mashed Potatoes And Gravy
In addition to being great on its own, turkey is also responsible for another highlight of the thanksgiving feast: gravy. Gravy, in turn, helps improve another quintessential aspect of the meal — you guessed it, mashed potatoes. For the most part, potatoes don't harm your health or your teeth. In fact, they contain some important nutrients: potassium, B6, and Vitamin C. The one downside to be aware of is their starch content. The bacteria in your mouth gravitate to the sugars in starch, which can harm your enamel. Moreover, potatoes are usually doused in the aforementioned gravy, which often contains lots of fat. We are not saying any of this to suggest you don't enjoy potatoes and gravy. Rather, we just believe in providing you with good information.
Cranberry Sauce
Is cranberry sauce a side or a dessert? There is some debate on the matter, but regardless of its categorization, it is typically sugary and acidic. Moreover, it can stain your smile, which no one ever wants. If you happen to enjoy this treat, just be sure to brush your teeth after eating it to rid your teeth of sugar and stains.
Contact Our Practice Today
If you have questions, contact Dreem Dentistry in Leawood, KS by calling 913-681-5500 to schedule your appointment.