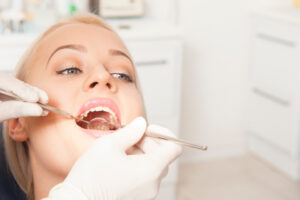 In our previous dental blog, we took a look at the ways oral cancer can affect anyone's smile at any given time, as well as how our team offered oral cancer screenings in-office. Indeed, it is important to recognize that your smile is constantly on the defensive against various threats, and some may be considered less traditional than most. Still, getting the preventive care you need is a top priority, and our team wants to make it as easy and accessible as possible. In today's blog, your Leawood, KS dentist discusses the importance of regular dental prevention and what you can expect from your checkup.
Taking Your X-Rays
Whether you are aware of it or not, your smile's health hinges on the quality of your preventive dental routine. Dental prevention is considered to be any practice that aims to prevent infection or damage from occurring to your structures, strengthen your natural defenses, and overall provide a thorough clean.
In order to get a good grasp on any potential structural concerns that may occur, our team will begin your checkup by taking your x-rays. This is often accomplished by having our patients bite down on a special device as we take pictures using x-ray technology from different angles.
The primary purpose of taking your x-rays is to identify potential areas that may require a bit more attention. This can be something structural, such as an issue with a crooked tooth, or it can include damage, such as a broken, chipped, or cracked tooth. To learn more about this process and how our team can help, give us a call today.
What Occurs During Your Exam
While you may be practicing routine prevention at home in the form of brushing, flossing, and rinsing with mouthwash, your routine is not considered complete without a formal checkup. During your dental examination, our team will take care to look at all of your oral structures for any signs of damage, trauma, infection, or other concern.
It is during your examination that we perform our oral cancer screenings, taking care to look at your gums, tongue, lips, cheeks, floor of the mouth, roof of the mouth, and throat. Contact our office to learn more and schedule your appointment today.
Finishing Off With a Dental Cleaning
After we have completed your dental examination, we will provide a thorough dental cleaning. This process involves carefully but thoroughly removing plaque deposits from the hard-to-clean areas of the mouth. Though you may be practicing flossing and brushing at home, sometimes deposits form in areas that are out of your threshold to maintain. During this final step, we can also provide treatment for a boost of protection and strength in the form of fluoride.
Schedule your Appointment Today
To learn more about the need for regular dental visits, contact Dreem Dentistry in Leawood, KS by calling 913-681-5500 to schedule your appointment and speak with a member of our team today.