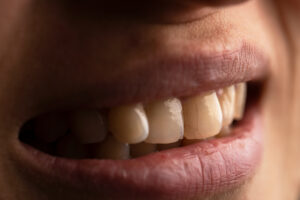 Being able to confidently flash a blemish-free smile is a rewarding and empowering experience. After all, we as a society tend to place a heavy emphasis on how our grins appear and sporting so much as a single smile discrepancy can significantly detract from our overall appearance, confidence, and more. Though your oral health is the most important factor to consider when providing care for your smile, you should also take pride in your oral appearance. In today's blog, your Leawood, KS dentist details the way cosmetic bonding and contouring can help improve your oral appearance by addressing noticeable chips and cracks.
More Than Just a Stain
Your oral health routine contains a number of moving parts and practices that you must adhere to on a daily basis. For instance, your dentist recommends brushing your teeth at home at least twice daily, flossing between meals, rinsing using an antiseptic mouthwash, and of course, attending your regular checkup and cleaning appointments. In addition to these practices, it is always a good idea to be conscious about the effects your diet has on your smile's health.
With age, your smile tends to naturally take on a less vibrant, duller hue. What's more? Your hygiene levels, preventive dental habits, use of tobacco or excessive alcohol consumption, and more can all contribute to stain development. Though stains may be a common issue many people face, chips and cracks, on the other hand, are not as easy to hide.
Indeed, surface-level chips and cracks can also detract from your oral appearance and even cause your confidence levels to drop. Fortunately, cosmetic bonding and contouring can help significantly. For more information about this process and how our team can help, give us a call today.
A Noninvasive Process
Bonding and contouring are a cosmetic dental treatment that aims to cover chips, cracks, and even addresses gaps. When you attend your cosmetic visit, our team will take care to apply a composite material to the affected area and then shaped. Because treatment occurs cosmetically, there is no invasive element of care.
Once the material has been shaped to satisfaction, a special light is used to cure it and then your treatment is complete. Contact our team to learn more about this process and how you can set up your initial appointment.
Other Lifelike Results
Due to the cosmetic nature of the treatment, your composite material can be shade-matched to the natural hue of your grin. In other words, you do not have to worry about noticeable results, as our team takes care to provide quality treatment that most will not even be able to tell was had from a distance.
Learn More Today
Contact Dreem Dentistry in Leawood, KS by calling 913-681-5500 to schedule your next appointment with our office and learn more about the many benefits of dental bonding and contouring.