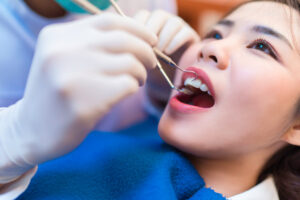 Your smile is one of your greatest features. Not only does its vibrant and youthful appearance communicate your overall disposition with life around you, but it serves many functional benefits as well. From biting and chewing to eating overall, being so much as a single tooth down can significantly impact your functional capabilities. With this and so much more in mind, it is only fair we take the strides we can to provide the best level of care possible. In today's blog, your Leawood, KS dentist explains why it is important you attend your routine checkup and cleaning, as well as how doing so before the holidays can benefit your smile greatly.
Fall and Winter Eats
It goes without saying that the holiday season is nearly upon us! After all, we have officially entered the 'ber months – September, October, November, and December – and there are plenty of holidays, events, and family gatherings to celebrate. Among the various plans that ae arranged, one thing remains certain throughout: there will be lots and lots of food!
Indeed, the holidays are often regarded as one of the best times of the year, as they embody all elements humans aspire to obtain: spending time with loved ones and eating tasty food! While you may be already honing your festive spirit, keep in mind that it can be simple to let your oral health fall to the sidelines, and as such, it needs a bit more care than you might expect.
While the Fall and Winter often signify a break from school and an opportunity to indulge, it is also important to recognize that threats to your smile's health simply do not stop. Consuming greater quantities of sugar and carbohydrate-rich dishes can contribute to greater chances of infection, and it is for this reason that our team recommends you schedule your routine checkup.
The Role of Your Checkup
Your dental checkup is much more than just a cavity hunt. In fact, it serves as an excellent opportunity for your smile provider to provide an in-depth examination into potential issues and threats to your grin's integrity.
Your checkup also helps rid the mouth of dangerous deposits that have formed in the hard-to-clean areas of the mouth through a segment known as a dental cleaning. To learn more about this process and how it benefits your smile, give our team a call today.
Stay Vigilant About Oral Health
The truth is, your smile needs all of the help it can get. Though you may feel as though you have been relatively on top of your routine, bear in mind that there are significantly more threats to your smile's health than natural defenses.
Learn More Today
Contact Dreem Dentistry in Leawood, KS by calling 913-681-5500 to schedule your next appointment with our office and learn more about the important role of a dental cleaning and examination, especially in prep for the holiday season.