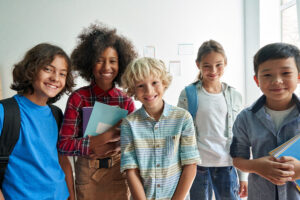 Before you know it, your children will be starting their first day of a new school year. Which means now is a great time to help them prepare for their first day, which includes taking care of their smile! In today's blog, your Leawood, KS, dentist talks about the importance of back-to-school visits for little smiles!
Getting Little Smiles Ready for School
When school starts everyone's schedules will become a lot more hectic. Attending visits could mean missing classes and extracurricular activities. But if you see us now, we can perform a checkup and cleanings, and address any issues we discover before kids start their first day, or during the first couple of weeks of classes. This means they begin a new year with a bright, healthy, and strong smile, one that can help them feel a bit more confident.
The Checkup and Cleaning Appointment
What happens during the checkup? Well, we will examine the teeth with digital x-rays and even intraoral camera images too, so we can see the roots, teeth, jaw, oral structures, and the surfaces of the teeth and gums too. Our team will make a diagnosis with accuracy and precision, assessing the risk of misalignment and identify issues like tooth decay, dental infection, and gingivitis. In the same visit, we will also clean the teeth too. A cleaning does what brushing and flossing alone cannot, removing all plaque and tartar buildup from the smile. This not only means righter teeth and fresher breath, but also a reduced risk of tooth decay and gingivitis too.
Preventive Actions
Our team could also discuss unique preventive treatments to help lower the risk of cavities forking during the school year. During each checkup visit, our team can apply a special fluoride gel to the teeth, using this naturally-occurring mineral to strengthen the protective layer of outer enamel, lowering the risk of cavities. Many children have trouble reaching the rear teeth when they brush and floss, so we can place dental sealants on the molars. This layer prevents food particles from becoming trapped between the teeth, which lowers the risk of cavities in the more vulnerable parts of their smiles. The sealants can stay in place for up to ten years and wear away gradually with time. As they wear away, they cling to the parts of the teeth more susceptible to tooth decay the longest.
If you have any questions about how we treat tooth decay or perform checkups and cleanings for kids, then give us a call today.
Do You Have Questions About Children's Dentistry?
Contact Dreem Dentistry in Leawood, KS by calling 913-681-5500 to learn how you can help your kids start a new school year with a healthy and bright smile!