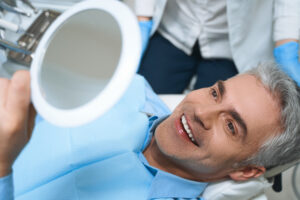 While it may not be the first thing to come to mind when discussing your oral health, your smile's appearance is an important factor you do not want to forget. After all, we as a society tend to place a heavy emphasis on a bright and vibrant grin, but maintaining such an appearance is not a walk in the park. Indeed, caring for your grin's appearance can be complicated by a number of daily experiences and practices, and as such, we want to help you achieve the finish you have always dreamed of. In today's blog, your Leawood, KS dentist explores the benefits of perfecting your smile with porcelain veneers and how our team can help you get started.
Dealing with Multiple Concerns
It goes without saying that dentistry in and of itself is a complex area of study. Not only can it be used to help keep your teeth strong and protected, but it can help address a variety of issues that arise to complicate your oral health. Though cosmetic concerns may not directly influence your health as a whole, that does not mean there is not value in pursuing cosmetic treatment.
Indeed, dental cosmetics involve any practice that addresses surface-level concerns or blemishes through relatively non-invasive treatment. What's more? This process often provides near-seamless results, meaning you will get to enjoy the benefits of a lifelike finish. There are different treatment options out there to meet your needs as well. These include teeth whitening to combat difficult stains, or bonding and contouring for chips and cracks. In the event that your smile is riddled with various concerns, don't fret! Porcelain veneers can offer total coverage. To learn more about this process and how our team can help, give us a call today.
Non-Invasive Treatment
One of the major benefits of porcelain veneers is just how non-invasive the treatment truly is. You see, veneers consist of ultra-thin shells of dental porcelain that are bonded to the front of your teeth using dental cement. It only requires a minimal amount of enamel sculpting to place, and results provide a permanent solution for difficult smile blemishes. Contact a member of our team today to learn how you can get started and what your treatment options may be.
Looking at Alternative Options
Porcelain veneers may not be the ideal solution for your current situation, but that does not mean that you are out of luck. As a matter of fact, our team works very closely with you to properly examine your smile and identify your needs. What's more? We provide the best treatment options for your situation so that you can enjoy an enhanced smile sooner rather than later.
Find Value In Your Smile Today
Contact Dreem Dentistry in Leawood, KS by calling 913-681-5500 to schedule your next appointment with our team and learn more about your cosmetic treatment options today.