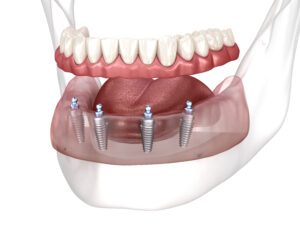 When you are missing teeth, it is crucial to act quickly. Not only does it pose cosmetic issues, but it can also affect your overall oral health. If you are down a tooth — or several — you can miss out on important nutrients you get when chewing. Moreover, lacking teeth can cause your jaw to receive insufficient stimulation, resulting in it losing density. In more severe cases, this can lead to your face sinking in, which can then prompt more severe treatments to fix. With this in mind, it is important to replace missing teeth as soon as possible. It doesn't matter if you lost your teeth due to a lacking preventative routine or external trauma, you must act quickly. Dentures and dental bridges are common, effective solutions that can fit either a single missing tooth or an entire smile. In today's blog, your Leawood, KS dentist discusses both treatments and the scenarios in which either is required. 
When Dentures Are The Best Option
Dentures can fit around existing teeth or even replace an entire row of missing teeth. Depending on your precise needs, they can be full, partial, or implant-retained. When they are crafted, your dentist will take precise measurements of your mouth to make sure they fit comfortably and securely. What's more is that they are color-matched to your teeth and gums, so they blend into your mouth seamlessly, remaining discrete. Dentures can typically be removed, so you can easily clean them or have minor adjustments made. Alternatively, you can opt for implant-retained dentures for a permanent appliance. This is a great option because the implants recreate the function of teeth's roots meaning that your jaw will be sufficiently stimulated when you chew, ensuring that it maintains a healthy density.
Understanding Dental Bridges
While dentures work well when you are missing several teeth spread throughout your mouth — or even an entire row — a dental bridge is typically the recommended option when you are missing a single tooth or a couple adjacent to one another. The bridge is made from ceramic or porcelain, which gives it a very life-like appearance. The prosthetic tooth — known as a pontic — is supported by the teeth adjacent to the space. These are outfitted with crowns to more securely support the prosthetic. Like dentures, they are color-matched and custom-designed to blend in with the rest of your smile. 
Schedule Your Appointment For Dentures Or A Bridge
If you are missing teeth, you need to act quickly to prevent more serious damage from occurring. If you have any questions about these services or would like to schedule an appointment, please do not hesitate to contact us today. You can contact Dreem Dentistry in Leawood, KS by calling 913-681-5500. We look forward to helping you achieve a complete smile soon.