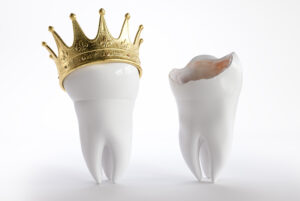 Although many individuals have a goal of maintaining a healthy smile for life, many times, oral bacteria and germs may have another plan for your grin. Indeed, it only takes a physical accident or injury, falling short in your preventive dental routine, or failing to seek timely treatment for an oral concern to spread, and the longer you wait to treat it, the more difficult it will be to address. Because of this, it is beneficial to have restorative treatment as a backup, and some options are more versatile than you might have expected. In today's blog, your Leawood, KS dentist takes a look at the many functions of a dental crown and ways you can benefit from timely care.
Preventing Infection from Spreading
When a person experiences a dental concern such as a cavity, discomfort, pain, or other concern, the number one way to handle the situation is by seeking restorative care. Indeed, restorative dentistry is the practice of using dental treatment to address a growing concern that can negatively impact your oral health. What's more? This process often involves mitigating a spreading infection, preventing that infection from affecting other neighboring structures, and reinforcing your natural tooth.
Although there are various forms of restorative treatment that will range in effectiveness, depending on your dental situation, none are more versatile than that of dental crowns. You see, tooth crowns consist of hollow caps that fit snugly atop a particular tooth. Additionally, these caps are custom designed with your measurements in mind. This allows for a tight fit that prevents oral bacteria from entering the structure, as well as prevents the infection itself from spreading out toward surrounding teeth. To learn more about this process, give us a call today.
Reinforcing Your Structure
Another important function of dental crown restorations includes reinforcing your natural structure and providing the support necessary to continue routine function. You see, an infected tooth can be a painful process to endure, and as you can imagine, routine tasks such as biting, chewing, and eating can become much more of a chore than they need to be.
With the help of a dental crown restoration, you can continue daily tasks without having to worry about your injured tooth. This is due to the dental porcelain that is utilized to construct your crown. Further, it acts as a barrier to protect your structure from the pressures of outside forces.
Lifelike Solutions
Finally, the ability to provide a virtually seamless finish is a benefit of dental crowns that many patients seem to enjoy. After all, a metal crown may assist your oral health, but it comes at the expense of your otherwise perfect smile. Fortunately, lifelike dental porcelain can help address your infection without having to compromise your appearance.
Learn More Today
Contact Dreem Dentistry in Leawood, KS by calling 913-681-5500 to learn more about the versatility of dental crown restorations, and schedule your next appointment with our team today.