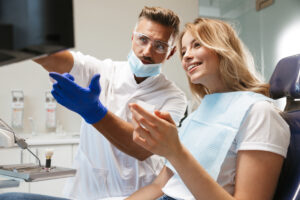 Many people become anxious at the mere thought of visiting the dentist. Both children and adults, alike, suffer from immense stress when it comes to going in for dental procedures, and it can prevent them from receiving the oral care that they need. While this is certainly a prevalent problem for many, there are numerous ways to help improve this fear. In today's blog, your Leawood, KS dentist discusses the ways to help alleviate your dental anxiety.
Pick The Right Dentist
It is essential to find a dentist that you like going to. Your friends and family members may give glowing recommendations about their oral healthcare providers, but unless you are happy to visit them, you should probably look elsewhere. This isn't to say they are inferior dentists; rather, they might just not be the right match for you. With this in mind, you may have to visit several practices before you find one that works for you. While this might take a while, it is certainly worth it to have a more comfortable and pleasant experience when you go in for your checkups and cleanings. 
Prepare For Your Visit
Appropriately preparing for your appointment is also very important. If possible, try to schedule it earlier in the day and give yourself some time before and after. Ideally, you do not want to be rushing to and from the appointment. If you do find yourself anxious about going, you do not want to wait until the end of the day, as you will probably grow increasingly stressed as the day moves along.
Of course, not everyone's schedule can accommodate these precise times, so just do your best when you can. If you are prone to dental anxiety, it is also advisable to limit caffeine and sugar intake before your appointment. Both of these substances can make you feel increased stress and cause you to have the jitters. You should also follow any instructions your dentist provides to you prior to your visit. 
Share Your Fears And Know You Can Request Sedation
If you are anxious at the dentist's office, please be sure to vocalize this to them. This will allow them to act accordingly and make helpful adjustments to their processes to better accommodate your stress. If you are both on the same page, things will probably run more smoothly. 
Furthermore, do not be hesitate to ask for dental sedation. There are several different types, including oral sedation and nitrous oxide, so your dentist or oral surgeon will be able to provide you with the option that will best suit your needs. Not only can sedation minimize anxiety, but it can also help manage physical discomfort.
Contact Us To Learn More About How We Can Increase Your Comfort
We are here to help make your visit to our office as comfortable and stress-free as possible. To ask any questions contact Dreem Dentistry in Leawood, KS by calling 913-681-5500 to schedule your next visit with our team and learn more about the ways we can help reduce your dental stress.