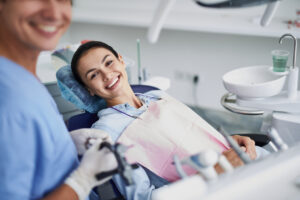 For a number of patients, their smile's appearance matters tremendously. Indeed, a bright, jubilant, and blemish-free grin is a highly sought-after topic, and it is one that many are willing to prioritize. Keep in mind, however, that while your smile's appearance may be important, it is even more necessary to consider what factors negatively influence your oral health and structures. In today's blog, your Leawood, KS dentist explains the need for regular preventive care, as well as what steps you should be pursuing at home to ensure a healthier smile overall.
Avoiding Excessive Plaque Buildup
Whether you are aware of it or not, plaque develops on your teeth as the day progresses. Indeed, plaque consists of the fuzzy or sticky stuff that you notice when you run your tongue over the backs of your structures. Unfortunately, this substance develops at a rapid rate, requiring consistent care to manage.
In addition to feeling like your teeth are wearing fuzzy slippers, plaque is considered a threat because it houses oral bacteria as well. These microorganisms can remain relatively protected by plaque, while also contributing to an increased chance of dental infection. For example, bacteria will feed off the foods you consume, and certain items, in particular, may cause these microorganisms to produce an acid that is destructive to your enamel. As such, it is imperative you have a method in place for plaque removal.
The most common option out there includes brushing your teeth. What's more? Your dentist recommends brushing at least twice a day so as to properly manage plaque development and keep your teeth strong. For more information about this process and how our team can help, give us a call today.
How Flossing Mitigates Gum Infection
Another important step to take when caring for your teeth is to floss after meals. While you may believe that brushing will suffice in terms of care, the reality is that this practice only provides partial care to your grin. In fact, particles from your food become lodged between teeth and near the gums, attracting harmful bacteria that cause gum disease and infection. This means that even if you are brushing regularly at home, it is best to ensure your routine also considers flossing for the health of your tissues. Contact our team to learn more today.
In-Office Care
Finally, your preventive dental routine would not be complete without in-office care. As a matter of fact, your checkup and cleaning allow for a more in-depth examination of your structures, while also ensuring that minor issues do not develop into major concerns. Your dentist recommends attending a visit at least once every six months, and we welcome you to schedule your appointment today.
Schedule Your Next Checkup
Contact Dreem Dentistry in Leawood, KS by calling 913-681-5500 to schedule your next visit with our team and learn more about the importance of dental prevention.