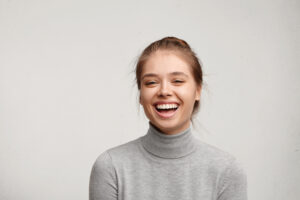 It goes without saying that your smile is constantly in need of oral care. After all, from the moment you are born, oral bacteria and other concerns attempt to plague and compromise your smile's health. As such, it is important to stay on top of your at-home routine, otherwise, you will likely run into complications down the line. Even still, however, surface-level issues develop all the time, and though they may not impact your health directly, there are benefits to seeking cosmetic treatment. In today's blog, your Leawood, KS dentist explains what cosmetic dentistry is, and how a variety of treatments can be pursued for various needs.
Addressing Noticeable Stains
As one of the most common cosmetic concerns out there, stains on your teeth can be a pain to manage. Indeed, they develop due to a few different circumstances, and you can bet that the longer you wait to treat them, the more difficult they will be to remove in their entirety.
You see, some of the most common causes of stains include the use of tobacco or tobacco products, excessive alcohol consumption, drinking coffee, tea, or other beverages with staining properties, and poor oral hygiene. Fortunately, cosmetic dentistry is here to help!
Cosmetic dentistry includes any treatment that aims to treat surface-level issues in a manner that enhances your overall smile quality. One such option that has been and continues to be popular among adults is teeth whitening. Indeed, this process involves applying a strong yet safe bleaching gel to the surfaces of your teeth. This material then works to break apart difficult stains and brighten your smile's shine. To learn more about this process and how our team can help, give us a call today.
Have a Cracked Tooth?
Another cosmetic concern that affects many people is when an accident causes a minor chip or crack to form. When this occurs, it may not directly impact your health, but it is certainly an eyesore that tarnishes your grin's quality.
In order to best address issues with chipping and cracking, our team recommends the use of dental bonding and contouring. Indeed, this process involves applying a composite material to the area and shaping it to mimic your natural tooth texture. What's more? The material can be shade-matched to your teeth, offering a seamless finish.
Veneers Address Multiple Issues
Finally, when you are having to deal with a variety of combination of cosmetic concerns, there is no treatment better suited than porcelain veneers. These ultra-thin shells of dental porcelain are bonded to the front of your teeth and provide highly realistic results.
Learn More Today
When you are ready to schedule your cosmetic dental appointment, go ahead and contact Dreem Dentistry in Leawood, KS by calling 913-681-5500 to schedule your visit and learn more today.