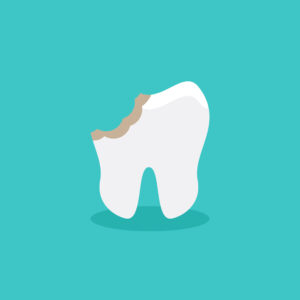 Taking care of your smile is important for a number of reasons. First, a healthy smile makes for better function, as your teeth are needed to bite, chew, and even enunciate. Second, caring for your teeth helps prevent dental decay, infection, and a host of other concerns from compromising your smile. And third, a healthy smile is a youthful grin, one that is free from noticeable blemishes. In today's blog, your Leawood, KS dentist discusses the impact that surface-level chips and cracks can have on a person's smile as well as their esteem, and how our team can provide treatment to help.
Damage at Any Time
It goes without saying that tooth loss is a fear many patients share, and one that might not seem like it is that close to reality until infection takes hold. Indeed, tooth decay is a leading cause of tooth loss when no treatment is sought or introduced, and it is among the most common oral health concerns out there. As a matter of fact, it affects millions of Americans every year in some shape or form, and most do not seek treatment until it has already progressed.
Still, it is important to note that infection is not the only cause of tooth loss, and dental emergencies can occur at any given time. For example, a miscalculated movement in a sports game can lead to a knocked-out structure, as well as a minor chip or crack.
Because of this, our team encourages you to seek treatment sooner rather than later so as to provide the best chances of success for your smile and determine if your issue is surface-level or worse. For more information about this process, give our team a call today.
When Damage is Surface Level
In the event that your chip or crack is merely surface level, cosmetic dentistry can help you restore your smile and enhance its appearance. More specifically, our team would utilize dental bonding and contouring to mend your cracked or chipped tooth. What's more? This process is relatively noninvasive in nature, and only requires a couple of visits to complete. Ask our team about your cosmetic dental options as well as how our team can help.
A Lifelike Solution
Another major benefit of mending cracked or chipped teeth with cosmetic bonding and contouring is that it affords the ability to correct these concerns in a lifelike manner. Indeed, we have the ability to shade-match the composite material to that of your natural smile's hue. In other words, most people will not even be able to tell there was an issue, to begin with!
Schedule Your Appointment
To learn more about the cosmetic benefits of bonding and contouring, contact Dreem Dentistry in Leawood, KS by calling 913-681-5500 and schedule your next appointment with our team today.