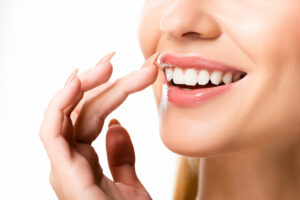 It goes without saying that your smile's appearance matters to you significantly. After all, it is often the first physical characteristic a person notices about you, and a jubilant smile is often indicative of confidence and happiness. Although the most important factor to consider when caring for your smile is your oral health, that does not mean that surface-level concerns should continue to go by untreated. In today's blog, your Leawood, KS dentist shares the benefits of cosmetic treatment, including how porcelain veneers offer versatile treatment to meet your unique needs.
Simple Treatment for Multiple Concerns
Nothing is more disheartening than putting in significant effort into your preventive dental routine just to have a minor stain compromise your grin's appearance. Nothing except for multiple discrepancies, that is. Indeed, stains, cracks, and chips occur as a result of your daily habits and diet, and without proper treatment, these situations may only get worse.
In addition to these concerns, natural gaps in-between teeth can cause your smile to appear uneven or flawed, which also leads to a reduction in confidence. But what exactly are your options when it comes to oral care? Fortunately, cosmetic dentistry has the answers.
With cosmetic dentistry, treatment looks at addressing surface-level concerns and enhancing your smile's overall appearance. For example, teeth whitening can handle difficult stains, while bonding and contouring address chips, cracks, and even gaps. This then begs the question, is there any treatment that can address all of these factors so as to mitigate time, effort, and cost? Fortunately, yes! Dental veneers offer the most in terms of cosmetic enhancement, and the best part is that treatment can be completed in only a couple of visits. To learn more about this process, reach out to our team today.
Shade-Match Capabilities
Porcelain veneers consist of ultra-thin shells of dental porcelain that are hand-crafted to mimic the natural appearance of your pearly whites. What's more? They only require a minimal amount of enamel sculpting when placed, and they offer a permanent solution to noticeable blemishes and other discrepancies.
In addition to their lifelike appearance, veneers can be shade-matched to the natural hue of your grin in order to provide a near-seamless finish. Contact our team today to learn more about these benefits and how our team can help.
Enjoying Your New Smile
While your oral health is always going to be our top priority, there is no reason you should have to go around sporting a blemished grin that makes you unhappy. Indeed, advances in dental technology make it possible to sport a youthful appearance without fear of expensive or intrusive treatment.
Contact Us Today
When you are ready to schedule your appointment with our team, contact Dreem Dentistry in Leawood, KS by calling 913-681-5500 to speak with our team and learn more about your cosmetic options today.