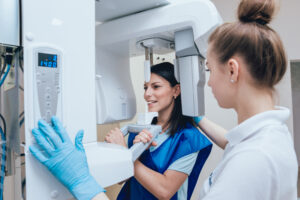 Though dental prevention is the name of the game when it comes to caring for your smile, bear in mind that staying on top of your routine 100 percent of the time is a difficult task. Indeed, there are a number of factors out there that can influence your smile's health significantly, and sometimes, these microorganisms find ways to infiltrate and compromise your structures. In cases such as these, your dentist will recommend restorative care to address the concerns. In today's blog, your Leawood, KS dentist explains how advanced dental technology allows our team to provide higher quality treatment for a healthier smile.
Highly Precise Measurements
It goes without saying that dentistry today is highly driven by our technological capabilities. Indeed, diagnoses, treatment, and more can be guided through the use of dental technology, allowing for higher quality results at a fraction of the time. Equipment such as 3D cone beam imaging, digital x-rays, and intraoral cameras allow for a more precise process and the ability to access areas that have been difficult to access in the past. For example, digital x-rays can help guide what our team should be on the lookout for in what area of your smile so as to provide better care.
Another major benefit of utilizing advanced dental technology is that it allows for a greater level of customization when it comes to your treatment. Indeed, 3D cone imaging in particular allows our team to create a three-dimensional representation of your smile that can help us utilize computer-aided design when creating your new dental restorations or dentures. To learn more about this process and how our team can assist, give us a call today.
X-Rays and 3D Cone Imagining
In addition to the benefits mentioned previously, digital x-rays allow for a higher level of safety than traditional options can provide. As a matter of fact, they utilize 90 percent less radiation than traditional methods, and the results can be produced instantaneously.
When seeking treatment to address tooth loss or some other restorative matter, 3D cone beam imaging utilizes enhanced precision to ensure optimal accuracy. Further, this process allows for enhanced detail so that molds produced from the process more closely address your needs than traditional options. Contact our office today to learn more about the process.
Intraoral Camera
Finally, one of the major benefits that have arisen from advances in dental technology includes the use of an intraoral camera. Indeed, it goes without saying that the teeth and other components contained in the back of the mouth can be difficult to observe properly, causing even bigger concerns when receiving treatment. With an intraoral lens, however, our team can provide higher-quality care by providing an enhanced perspective.
Learn More Today
For more information about the need for dental technology when providing quality care, contact Dreem Dentistry in Leawood, KS by calling 913-681-5500 and schedule your next visit with our team today.