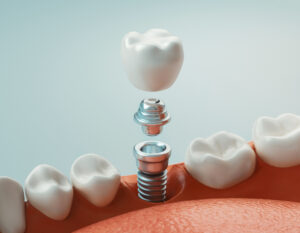 It goes without saying that, in an ideal world, we would not have to worry about premature tooth loss, as the practice of brushing daily would be enough to allow for a lifelong smile. Unfortunately, this is not the reality we live in, and major dental concerns vary significantly. As such, there are a variety of ways oral bacteria can infiltrate and wreak havoc on your smile, and unfortunately, tooth loss is a possibility. In today's blog, your Leawood, KS dentist examines the effects of losing one or more oral structures, and how dental implants can benefit you in a few different ways.
Addressing Your Needs
Though a perfect smile is a goal that many people aspire to obtain, the truth is that it is a concept much easier said than done. After all, you must consider the various ways infection, disease, bacteria, germs, and more influence your smile, all while practicing an effective routine to fend them off.
Indeed, your dentist recommends an at-home regimen that takes into account the various aspects that comprise your oral health. These include your teeth, gums, tongue, roots, cheeks, and throat. As a matter of fact, an effective routine should at least consist of brushing your teeth twice daily, flossing after meals, and using mouthwash.
Even still, it only takes one instance of forgetting to do one of the above-mentioned tasks for oral bacteria to wreak havoc on your grin, and without proper dental treatment, you could face the possibility of serious infection, tooth sensitivity, and even structural loss altogether. Fortunately, restorative treatment can help. To learn more about this process and what your next best steps may be, give our team a call today.
Improving Oral Function
When a person loses a natural tooth, you can expect functional complications to arise. For example, tooth decay is among the leading causes of tooth loss and is characterized by harmful bacteria creating acid that eats away at your tooth. What's more? It will work its way into your structure until it is completely compromised.
Contrary to popular belief, losing a tooth is much more than just a cosmetic concern. It actually influences your oral function, making daily tasks such as eating and chewing difficult to perform. Fortunately, implant dentistry can be used to restore your function once more. Contact our team to learn more today.
Customized Care
Implant dentistry utilizes a strategically placed biocompatible post to function as an artificial root and, subsequently, allow your new structure to absorb the standard pressure of your bite. Not only does it do this, but it allows for customized care by creating lifelike restorations that are shade-matched to your natural hue.
Learn More Today
Contact Dreem Dentistry in Leawood, KS by calling 913-681-5500 to learn more about this process and schedule your next appointment with our team today.