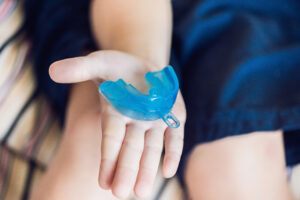 At a young age, attending dental visits may seem a bit daunting. Indeed, we are often flooded with a number of 'what if' questions because it is an experience we have never had before. Questions that come to mind involve what are all of the tools being used? Will my treatment hurt? What if I have to lose my teeth? And so on and so forth. In other cases, we might be told we need to utilize a mouthguard. But what exactly does this mean for your smile? In today's blog, your Leawood, KS dentist takes a look at the purposes and functions of a mouthguard and how they can benefit your grin.
What is a Mouthguard?
Though it may not seem like a common treatment option, the truth of the matter is that mouthguards can actually benefit your smile in more ways than one. Indeed, a mouthguard consists of a rubber or plastic device that is intended to protect your teeth and gums by covering your oral structures. There are a variety of over-the-counter options out there, including boil-and-bite guards that can be customized to your unique smile. Your dentist may also use a mold to create a custom guard that most closely fits your parameters.
Traditionally, your dentist may recommend the use of a mouthguard in any case that your teeth can be harmed or injured. This can include physical injuries that result in dental emergencies, or simply to prevent damage from grinding your teeth. To learn more about the need for oral protection and how our team can help you get started, give our office a call today.
Cushioning the Blow of Sports
It goes without saying that physical activity is something we all must partake in to remain healthy and active, and some individuals, in particular, enjoy staying active through sports participation. Just as with any physical activity, however, there is always a risk of harm.
If you regularly participate in sports games such as football, hockey, or any contact sport in general, your dentist may recommend the use of a mouthguard to ensure your oral structures are safe from harm. Contact our team today to learn more about this process and how these devices can be used for contact and non-contact sports alike.
Potential Teeth-Grinding
Another major use of mouthguards involves preventing damage from teeth-grinding while you slumber. Indeed, more individuals experience bruxism than you might expect, and when left untreated, this phenomenon can result in significant damage and enamel wearing. As a method for protecting your structures, your dentist may recommend a night guard to ensure your teeth are safe from harm while you sleep.
Learn More Today
To learn more about the many situations in which a person could benefit from a mouthguard, or to schedule your next appointment with our team, contact Dreem Dentistry in Leawood, KS by calling 913-681-5500 today.