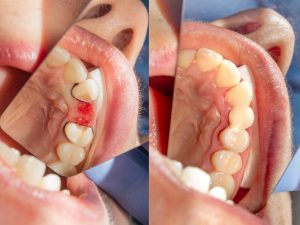 In our previous blog, we discussed the many implications of losing your natural teeth. Though it is nobody's first choice, tooth loss can affect you in more ways than you might have initially thought, and sometimes it may be the only solution left to consider when attempting to prioritize your oral health. Even still, having a structure extracted and not replacing it can lead to bigger complications and concerns, including the loss of multiple consecutive structures. In today's blog, your Leawood, KS dentist takes a look at situations in which you could benefit from a custom bridge restoration, as well as complications that could arise if you fail to seek treatment.
Understanding the Pattern
Though oral health in and of itself is a complex process that consists of different conditions based on your level of preventive dental care, there are a few items that remain true throughout. For example, failing to brush your teeth will lead to bad breath, ignoring periodontal health will lead to gum complications and diseases, and once a tooth is lost to decay, your chances of losing surrounding teeth increase drastically.
Indeed, tooth loss is a sensitive topic for many, as patients often do not consider it a concern until they are very close to experiencing it for themselves. What's more? By the time this rolls around, it is often too late. As such, it is always better to seek treatment sooner rather than later.
You see, once you lose a tooth to decay, that does not mean the infection itself is gone. As a matter of fact, it may continue to lurk and affect adjacent structures. If it is powerful enough to spread and compromise a single tooth, it can do this to multiple. For more information about this process, give our team a call today.
The Impact on You
In addition to the difficulties you must face with enduring a noticeable gap in your smile, tooth loss can lead to many functional complications as well. For instance, having even a single gap in your grin can cause your bite to become off, leading to the need to readjust. This inevitably leads to strain and tension, and without care, can cause tissue and structural damage as well. Reach out to our team today to learn more.
Solutions that Bridge the Gap
Once you lose a tooth to decay, your surrounding structures are sure to follow. As a result, you will want to seek effective treatment immediately. This can be accomplished through the help of a dental bridge restoration, which consists of two or more crowns bonded together to span the length of the gap.
Learn More Today
To learn more about the need for dental bridge restorations and what your options may be, contact Dreem Dentistry in Leawood, KS by calling 913-681-5500 to schedule your appointment with our office today.