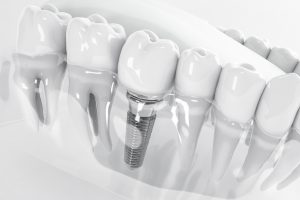 It goes without saying that the last thing you want to be worried about is losing a permanent tooth, but the unfortunate truth of the matter is that for some, this is very much a reality. Indeed, taking care of your smile is a lifelong endeavor, and complications can sprout up left and right, even with consistent care. If a tooth must be removed for any reason, however, what does that mean for your oral health and function overall? In today's blog, your Leawood, KS dentist discusses the implications of maintaining an infected tooth, and how dental implants can benefit your health in a few different ways.
A Tooth Beyond Saving
For many patients, losing a natural tooth is the worst-case scenario when it comes to dental health and infection. Indeed, the last thing your dentist wants is to remove an integral part of your smile, however, sometimes, it may be more beneficial to have the structure extracted than to leave it in place. But when does this concept apply?
By and large, one of the most common dental concerns out there involves tooth decay and infection. This process occurs when hyperactive oral bacteria produce a damaging acid that eats away at your natural layer of enamel. Once this has progressed enough, bacteria will begin to target your teeth themselves and will quickly cause destruction.
In extreme cases, decay and infection may be irreversible, or restoration may fail because the damage has progressed so greatly. When it comes to situations such as these, your dentist may recommend having the structure removed before the infection can spread to other teeth because the tooth in question is beyond saving. For more information about this process, reach out to our team today.
Ways it Affects You
Not only are compromised teeth harmful to your oral health, but they can cause functional complications as well. For example, an infected tooth may become sensitive to extremes in temperature such as hot and cold. It may also be unable to withstand pressure, causing sharp or shooting pains and difficulty with performing routine tasks such as biting, chewing, or eating. Indeed, if you are beginning to experience consistent difficulties with everyday oral function, it is best to contact our office and schedule a visit immediately.
Benefits of Prosthetics
Although losing one or more teeth is far from ideal, it does not mean you have to sport a noticeable gap in your grin. Our team can actually provide dental implants to restore your function and complete your smile. What's more? The unique nature of the biocompatible post allows your artificial tooth to absorb the pressure of your bite as normal, while a custom crown restoration provides a lifelike appearance.
Learn More Today
Contact Dreem Dentistry in Leawood, KS by calling 913-681-5500 to learn more about the need to replace missing or lost teeth, and schedule your next appointment with our team today.