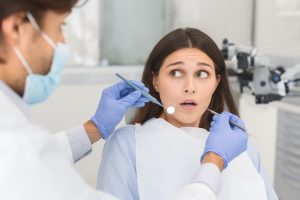 It goes without saying that your health, both physical and mental, is of the utmost importance. As a matter of fact, your mental health influences all other aspects of your well-being, including your oral health and smile. It is important to note, however, that dental phobia is a very real phenomenon that can serve as an obstacle to obtaining necessary smile care, and when enough time passes in-between visits, a slew of complications can arise. In today's blog, your Leawood, KS dentist explores the meaning behind having a dental phobia, as well as how our team can provide care in a manner that promotes a calm and comforting environment.
What is Dental Phobia?
Growing up, there are a number of firsts that took us by surprise. For instance, a first haircut might have seemed nerve-wracking, just as going to school for the first time and being away from your parents might have been. This phenomenon often translates over to first dental visits, and for some, this anxiety may have never truly subsided.
Indeed, dental phobia consists of fear or anxiety associated with going to the dentist and receiving any sort of dental work or procedure. What's more? It is often characterized by an extreme sense of dread and nervousness, meaning that it is powerful enough to prevent patients from attending visits necessary to their oral health.
You see, your dental checkup and cleaning serve a vital purpose as part of your preventive dental routine. This visit allows your dentist to thoroughly check for signs of damage, infection, and more, as well as prevent minor issues from developing into major concerns. That being said, avoiding these visits can be detrimental to your smile's care. For more information about this process, give our office a call today.
Education and Information
Because dental phobia is a major obstacle to effective dental prevention, it goes without saying that those who are unable to attend necessary visits are often afflicted with major oral complications later in life. These can include significant dental decay, infection, and even tooth loss. But how exactly can this situation be addressed? Fortunately, dental sedation is here to help.
Ways Sedation Helps
There are a variety of reasons that a patient may feel anxious or stressed about their visit, and as such, we want to ensure everyone is as comfortable and relaxed as possible. As a solution, our team offers sedation dentistry to help provide a calm environment to receive treatment. Indeed, sedation dentistry involves the administration of a gaseous, oral, or intravenous sedative that helps to relax the central nervous system. Reach out to our team today to learn more about the different options we offer.
Learn More Today
Contact Dreem Dentistry in Leawood, KS by calling 913-681-5500 to learn more about the benefits of a calm and relaxing treatment environment, and schedule your next appointment with our team today.