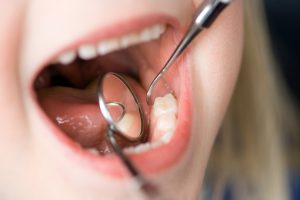 Taking care of your smile is an involved process and one that certainly requires more than many patients are willing to put into it. After all, your oral health is comprised of many structures contained within the oral cavity, and as such, simply brushing is not enough to fend off the barrage of bacteria and other threats that are present. What's more? An excellent preventive routine consists of more than just brushing, and our team is ready to help. In today's blog, your Leawood, KS dentist discusses the major tenets of your routine checkup and cleanings, as well as why this visit is essential to proper health.
A Major Tenet of Prevention
As we mentioned before, your oral health is made up of the many components in your mouth. These include your teeth, roots, gums, tongue, lips, cheeks, and even your throat. What's more? Each of these structures must be tended to and taken care of if you wish to maintain a healthy grin for life. But where exactly do you start?
Proper oral care should begin as early as possible to provide the best experience for your grin. Further, your routine should pay attention to more components than just your teeth, and should also include flossing to address periodontal care, learning about the ways foods and beverages interact with your structures, and attending routine checkups and cleanings.
Looking specifically at your checkups, this step may initially appear unimportant to some, but the reality is that it actually serves a major function. You see, checkups allow your dentist to take a professional look at your smile and help identify points of concern that will only continue to get worse without treatment. To learn more about this process, give our team a call today.
Identifying a Variety of Concerns
Your six-month examination is needed to help identify concerns you would not be able to see on your own. What's more? It serves as more than just a cavity hunt and instead looks at the various components of your smile to ensure your health, function, and more are up-to-par.
In addition to your examination, we will provide a safe and gentle cleaning to remove the deposits of built-up plaque, which are laden with bacteria that cause bad breath, tooth decay, gum infection, and more. Schedule your visit to our office today.
Additional Treatment and Benefits
While a standard checkup consists of an examination and cleaning, it also includes an oral cancer screening. You see, contrary to popular belief, anyone can develop this concern at any point in their life. As such, it is important to have your dentist perform an oral cancer screening regularly to ensure you are in good health.
Schedule Your Visit
To learn more about the need for preventive dental visits and why you should attend yours, contact Dreem Dentistry in Leawood, KS by calling 913-681-5500 to schedule our examination today.