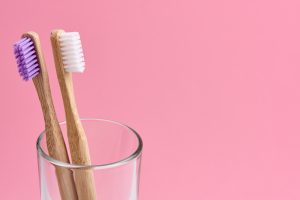 From the moment you are born and well into adulthood, oral bacteria, tooth decay, and more threaten your smile's health. Indeed, your grin is virtually always on the defensive against these threats, and sometimes it can feel like it never ends. Because of this, your dentist recommends partaking in a thorough and well-rounded care routine. But what exactly does that mean for you and your smile? In today's blog, your Leawood, KS dentist will take a look at the components of dental prevention, as well as how you can take steps to provide higher-quality protection for your teeth.
The Role of Prevention
Dentistry in and of itself is a complex concept. It involves restorative treatment that handles infections and restores teeth, as well as cosmetic treatment that addresses surface-level concerns. While these two components are important, there is none that is more important than effective dental prevention.
Preventive dentistry is considered to be any practice that aims to provide effective protection for your grin and keep your structures healthy and strong. After all, oral bacteria and infection have an even more difficult time causing problems when structures are protected as opposed to when they are not.
Indeed, preventive dentistry is the name of the game when it comes to your oral health, and falling short in one or more areas is all it takes for infection to set in. While many people are correct that brushing your teeth is a form of prevention, it is important to remember that it is not the only step to consider. For more information about proper oral health and the steps involved for adequate care, give our office a call today.
Components of an Effective Routine
When your dentist asks about your routine, know that she is asking about more than just brushing your structures. In fact, a well-rounded routine should consist of flossing after meals, brushing at least twice daily, attending routine checkups and cleanings, and learning about the ways your structures interact with certain foods and beverages. Because your oral health is comprised of your oral cavity, it is important to recognize that brushing alone is not enough to keep bacteria at bay. In fact, each step in your routine should serve a purpose and target a specific area, including how flossing aids in periodontal health.
Additional Help, When Needed
In addition to your routine, our office offers additional treatment when you need it. This can include dental sealants and fluoride treatments for you and your children, as well as oral cancer screenings to ensure you are in peak health.
Set Up an Appointment
Your smile's health is of the utmost importance, and our team is ready to help. Contact Dreem Dentistry in Leawood, KS by calling 913-681-5500 to schedule your next appointment with our office and learn more about the steps you can take to improve your preventive routine.