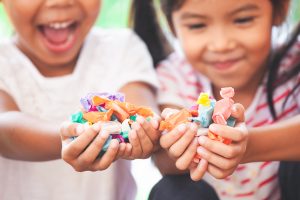 It's that time of the year again! That's right, spooky season is upon us, which means dressing up in costumes, enjoying the wonderful Halloween decorations, and going door-to-door to receive a basket full of goodies and treats. Though trick-or-treating is a fun-filled experience for many, bear in mind that your teeth might not appreciate the excess in sugar, leaving them more vulnerable to infection and decay. In today's blog, your Leawood, KS dentist takes a look at what your little ones' smiles can expect from this holiday season, as well as what steps you can take to ensure proper care.
Beware of Holiday Classics
It goes without saying that the latter quarter of the year is everyone's favorite time. After all, there are so many benefits to the end of the year! For instance, most families take holiday trips in the months of October, November, and December, and children are off for Thanksgiving and winter break. What's more? Many businesses close during the holidays, so you can expect to get a much-needed day off as well.
Another major benefit of the holidays that a lot of patients look forward to is the delectable array of goodies! From holiday cookies to desserts on Thanksgiving and everything in-between, this time of the year is certainly tempting for many a sweet tooth.
Though it is fun to treat yourself after a stressful year, one piece of advice we provide our patients is moderation. Indeed, anything can be bad if you consume too much of it, and sugars and sweets are certainly no exception. As a matter of fact, these treats, in particular, can impact your smile's health in a variety of ways. To learn more about this process, reach out to our office today.
Sugars and Dental Decay
One of the most common dental concerns out there includes tooth decay. Indeed, this phenomenon affects millions of people every year in some form or another, and without proper treatment, it can lead to significant complications.
You see, foods and other items that contain sugar are especially bad for developing decay, as the oral bacteria responsible for this phenomenon become even more excited when consuming sugar. In fact, this causes them to secrete a destructive acid at a more rapid rate, inevitably expediting the decay process. Give our office a call to learn more today.
Treatment that Helps
Children's teeth are especially prone to infection due to the fact that they are still developing, and as such, it is important to ensure your little one's smile is taken care of. This can be accomplished by attending routine checkups, as well as seeking additional treatment that can provide a boost of strength, such as dental sealants and fluoride treatment.
Schedule Your Visit
Contact Dreem Dentistry in Leawood, KS by calling 913-681-5500 to learn more about the effects of sugary treats and this Halloween season, and schedule your next pediatric dental visit with our office today.