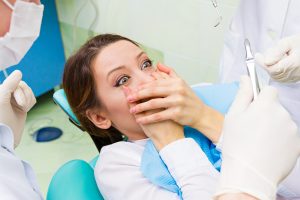 Taking care of your smile involves a steady balance of care at home, as well as taking strides to attend your routine dental appointments. Indeed, this combination of factors is necessary to paving the way for a healthy smile for life, and falling short in this routine can open the doors to a myriad of concerns and threats. For some, however, it can be difficult to battle the anxieties that arise from dental visits, causing patients to unintentionally place their grins at a disadvantage. In today's blog, your Leawood, KS dentist discuss the ways sedation dentistry can help make your visit more comfortable so you can receive the treatment you need.
Making Your Visit Comfortable
Whether you are aware of it or not, dental anxiety is a very real condition that affects many people every year. This phenomenon consists of heightened anxiety, fear, and a crippling inability to attend dental appointments. It can also range in severity depending on the case. As a result, some patients are unable to attend the visits necessary to their preventive routine.
Not only does this situation lead patients to skip important visits, but it allows for an increased risk of encountering significant threats due to lack of treatment. Seeing that checkups and cleanings are necessary to identify oral concerns, a significant portion of your routine will be missing.
In order to make our patients feel more comfortable and prepared for their appointments, our team can provide sedation dentistry to calm your nerves. To learn more about this process and schedule your next dental visit, contact our team today.
A Few Different Options
Sedation dentistry consists of administering a sedative to help calm the nervous system and provide peace of mind. What's more? Our team offers a few different options to choose from that can make your treatment calmer.
Nitrous Oxide, also known as laughing gas, is a sedative that patients inhale that acts immediately upon breathing it in. It is a milder form of sedation, and its effects cease once the gas is turned off. We also offer an oral sedative to be taken prior to your appointment so that its effects kick in shortly before treatment begins. Finally, intravenous or IV sedation is administered into the bloodstream by our trained team to allow for a deep state of calm.
Providing Quality Treatment
We strive to ensure our patients feel comfortable and safe while receiving the treatment necessary to properly care for their grins. Indeed, the last thing we want is for you to lose a permanent tooth, and sedation dentistry allows you to receive necessary treatment in a calm manner that reduces anxiety.
Speak with Our Team
Contact Dreem Dentistry in Leawood, KS by calling 913-681-5500 to schedule your next appointment with our team and learn more about the benefits of sedation dentistry.