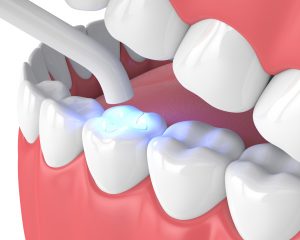 Though most people feel as though they have an excellent grasp on their oral health, the truth of the matter is that there is much more to consider than they might initially have thought. Indeed, brushing your teeth is imperative to a healthy grin, but when this is your only preventive practice, you will experience more concerns than anticipated, such as the onset of cavities or disease. In today's blog, your Leawood, KS dentist discusses the dangers of falling short on your preventive care routine, and how restorative treatment such as dental fillings can restore your smile in a lifelike manner.
Understanding Restorative Dentistry
It goes without saying that preventive dentistry is the name of the game when it comes to prioritizing your smile's health. After all, it consists of a balanced routine that stands to mitigate threats to your smile and keep your grin strong.
A well-rounded preventive routine consists of brushing your teeth twice a day, taking care to floss, and attending routine checkups and cleanings. Indeed, your quality-of-care matters tremendously as well, and falling short in any one area can open the door to heightened chances of infection.
Even still, falling short in your routine increases your chances of developing tooth decay or other concerns, and acting sooner rather than later will always prove better for your grin. The problem is, however, issues can develop at a rapid rate sometimes, and your condition may worsen significantly before you even notice there is a problem to begin with. In cases such as these, your dentist will utilize restorative dental treatment to help restore your smile's strength. Reach out to our office today to learn more about this process.
Mitigating Damage
While prevention may serve a main purpose in preventing oral bacteria and other concerns from wreaking havoc, restoration aims to reverse any damage that you may have endured as a result of these microorganisms infiltrating your smile. Indeed, the sooner you seek treatment, the better your chances are of maintaining a healthy grin.
When it comes to tooth decay, a major treatment includes dental fillings. This process consists of cleaning the infected area and removing decaying material, then filling the open cavity with a composite resin material. To learn more about this process, reach out to our team.
A Highly Lifelike Solution
One of the major benefits of composite resin is the ability to have the material shade-matched to the hue of your teeth. Indeed, we recognize how important a seamless smile is to many, and we utilize lifelike material to accomplish this goal and provide the natural looking grin you deserve.
Learn More Today
To learn more about the need for restorative treatment, or to schedule your next dental filling with our team, contact Dreem Dentistry in Leawood, KS by calling 913-681-5500 to schedule your appointment today.