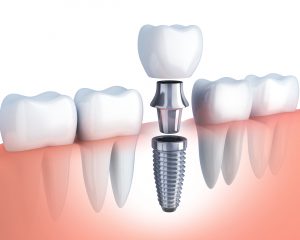 Taking care of your health means much more than just brushing your teeth on a regular basis. In fact, sometimes oral health requires us to make difficult decisions, such as extracting a tooth for the sake of our entire smile's integrity. Indeed, nobody wants to lose a tooth as an adult, but sometimes it is unavoidable altogether. Still, however, just because a diseased structure is no longer present, that does not mean you are in the clear. In today's blog, your Leawood, KS dentist explains the importance of having a lost structure replaced, and how dental implants can help.
Benefits Everyday Practices
The thought of losing one or more structures as an adult can be troubling for many, but it is what comes after the fact that is worrisome. Indeed, whether you are aware of it or not, your teeth and other oral structures function together to accomplish many tasks. For instance, biting, chewing, eating, and even enunciating would not be possible without the help of your teeth, jaw bone, and gums. But how do these structures function together?
You see, your roots and jawbone create a secure connection with one another. The roots are housed in the jaw where they are able to provide structural stability, and the presence of a root helps stimulate the jaw and keep it strong and sturdy. The connection allows your crowns to properly absorb the pressure of your bite, and the gums provide further protection and cushion to reinforce the relationship.
That being said, when even a single structure is no longer present, your bite must accommodate the gap. This also leads to complications in function, and performing routine tasks such as eating or speaking will become much more difficult. Reach out to our team today to learn more about this process.
Caring for Jaw Structure
In addition to difficulty in function, your jawbone will suffer without the presence of a root or root-like structure. As a matter of fact, the longer you go without something to stimulate the bone, the more likely it is you will face structural degradation. In other words, the longer you wait to seek necessary treatment, such as a dental implant, the more difficult it will be to receive effective treatment. Contact our team today to learn more.
Completing Your Grin
Dental implants and restorations not only help improve your oral function and structural integrity, but they help complete your smile as well. Indeed, a special material is used to construct your custom restorations, affording a high-quality, lifelike solution. What's more? The biocompatible implant can create a secure connection that mimics that of a root, allowing your structures to properly absorb the pressure of your bite once more.
Schedule Your Visit
Contact Dreem Dentistry in Leawood, KS by calling 913-681-5500 to learn more about the need for dental implants, and schedule your next appointment with our team today.