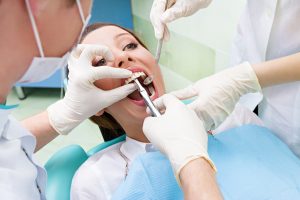 Seeking dental treatment is a necessary step in your overall dental routine, but sometimes your situation requires more consideration than you might have initially thought. Indeed, our smiles face a significant number of threats over the course of our lives, and some situations are much worse than others. In theory, a well-rounded preventive dental routine is enough to pave the way for a lifelong smile, but sometimes life has different plans. In today's blog, your Leawood, KS dentist explores circumstances that may warrant tooth removal, and how sometimes an extraction is the only way to prioritize your overall health.
What to Know About Oral Health
From the moment your first tooth arrives and well into adulthood, your grin never stops facing oral threats. Indeed, this can range from harmful bacteria that cause decay to physical accidents and injuries. Even the foods you consume impact your smile's integrity, and some items are worse for your grin than others.
The truth of the matter is that the only way to increase your chances of maintaining a healthy grin for life is by taking part in a well-rounded preventive dental routine. Still, however, this does not guarantee zero complications along the way.
Sometimes, all it takes for your health to go south is falling short in one or more areas of your routine. Other times, an unavoidable accident or injury might be the reason. Either way, it is how you move forward that determines your outcome.
One major dilemma you may be presented with, depending on your situation, is the need to remove a compromised tooth. While losing a natural structure is the last thing you or your dentist want, sometimes it is necessary. Reach out to our team today to learn more about this process.
Extraction as an Option
It goes without saying that tooth extraction is certainly never the first choice. After all, our goal as your dentist is to ensure your smile is healthy and happy. With that in mind, however, some circumstances may cause you to make difficult decisions. One of these decisions is what to do about a compromised tooth.
You see, restorative dentistry allows our team to mitigate damage and reinforce a structure's strength. In some situations, however, this cannot be accomplished, as infection has already progressed significantly. In order to best prioritize your health, an extraction may be considered.
Lifelike Restorations
Even if you need a tooth removed, we can work with you to provide lifelike solutions to make your smile whole again. Ask our team about your prosthodontic options, and how we can place your dental implant.
Schedule Your Visit
Contact Dreem Dentistry in Leawood, KS by calling 913-681-5500 to learn more about the need for tooth removal, and schedule your next appointment with us today.