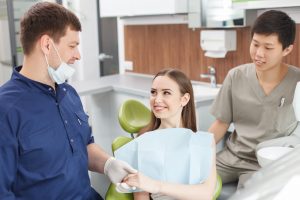 Losing a tooth as an adult is the last thing you or your dentist wants to happen, which is why we do everything we can to ensure you get to keep your natural teeth. Indeed, restorative dentistry plays an integral role in a lifelong smile, as its intended purpose is to address decay and infection without resulting in extraction. Even still, sometimes removal is your best option, and our team can help discuss your prosthetic options should it get to that point. In today's blog, your Leawood, KS dentist discusses important steps to take when caring for your teeth after a restorative visit.
Heightened Sensitivity
It goes without saying that dental prevention is the number one way to increase your chances of maintaining a healthy smile for life. Indeed, prevention involves brushing your teeth twice a day, remembering to floss, and attending your routine checkups and cleanings. Even still, it only takes falling short in one area or experiencing a physical accident for all of that hard work to go out of the window. Fortunately, this is where restorative dentistry comes in to help.
Dental restorations are intended to mitigate damage by removing infection and damaged tissues so that they are unable to continue spreading. There are a variety of treatment options that can be used depending on your specific needs but bear in mind that just like any surgery you may have, there will be a recovery time.
Whether you have just come in for a dental filling or completed a root canal procedure, one constant you will face is heightened sensitivity. Restorative procedures require your dentist to remove parts of a structure or tissues in order to preserve the whole, and as such, your body will need time to heal from it. For more information about this process, reach out to our team today.
Regaining Function
Another factor to understand involves how the healing process will affect your oral function. For example, you would not expect to be able to walk perfectly after having knee surgery, so why would you expect your bite to function as normal? Indeed, it will take some time for you to regain the full function of your bite, so take care not to push yourself too hard or overexert yourself in the process. For more information, reach out to our team today.
Ensuring Proper Care
On a closing note, your dentist recommends taking extra care of your smile following restorative treatment. Our team works hard to provide quality service to our patients, and quality care can help ensure the success of your dental restoration.
Learn More Today
To learn more about what to expect following a restorative dental procedure, contact Dreem Dentistry in Leawood, KS by calling 913-681-5500 and schedule your next appointment with our team today.