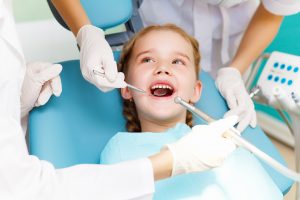 Believe it or not, it is never too early to teach your child the importance of taking care of their smile. After all, oral threats such as bacteria and infection begin to target their grins as soon as they develop. Indeed, children's dentistry serves a great many purposes, including proper health care and what quality treatment really means. In today's blog, your Leawood, KS dentist explains what a complete routine looks like, and how preventive dentistry paves the way for a lifelong smile.
Teaching Proper Care
Caring for your little one's grin begins as early as the sight of their first tooth, or by their first birthday, whichever comes first. Indeed, just as you must stay on top of your care, tiny smiles need just as much attention, if not more.
While many people believe that brushing alone is the key to healthy teeth, the process is actually a bit more involved than you might expect. In fact, most dentists recommend a healthy cycle of flossing, brushing at least twice a day, being watchful of your sugar intake, and of course, attending routinely scheduled checkups and cleanings.
When teaching your little ones the importance of keeping their smiles healthy and happy, it is important to provide the reasoning behind it. For instance, knowing that dental decay is often caused by excessive sugar intake can help you and your family make informed decisions about managing your diet. What's more? Knowing that plaque develops as the day goes on helps emphasize the importance of brushing teeth at least twice a day. To learn more about this process, reach out to our team today.
Visiting with Our Team
In addition to at-home care, you will want to make sure that your children attend their six-month checkups. During this visit, our team will take care to provide a thorough examination to ensure smile development is where it should be. This includes checking oral structures for signs of damage as well as how and where they are developing.
We will also provide a gentle cleaning to make sure that deep-set plaque deposits are removed. Another important function these visits serve is to be able to provide added smile strength. For instance, our team can provide a dental sealant or fluoride treatment to protect smaller grins.
Things to Consider at Home
While diet and checkups play important roles in ensuring your child's smile is in great shape, much of your preventive routine consists of brushing and flossing. In other words, you and your children make the decision to be as involved or relaxed about oral health as you wish, but it is important to keep in mind how a routine helps your smile.
It is Never too Early to Start
Contact Dreem Dentistry in Leawood, KS by calling 913-681-5500 to learn more about the importance of beginning preventive dental care sooner rather than later, and schedule your appointment with our team today.