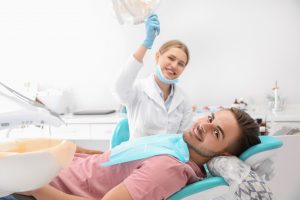 Cavities are a problem that many people experience, something that calls for treatment at the dentist's office. Often, this is a problem that can be addressed with a dental filling. However, there are some occasions when more involved care is needed. If decay is not caught and treated in time, the cavity can cause an infection within the tooth structure that has to be addressed through root canal therapy. At our Leawood, KS dentist's office, we can address advanced tooth decay by dealing with an internal infection, restoring your pulp, and providing a custom restoration to protect your tooth and smile. We should note that root canal therapy can also be included in treatment if you have a serious physical injury.
Why Cavity Treatment Sometimes Calls For Root Canal Therapy
The time a cavity is given to form and worsen can affect the type of restorative dental work that you require. Eventually, bacteria can make their way to your pulp, the tooth's central chamber, and cause an infection. Without treatment, bacteria can actually move through the roots of teeth that are infected to create new problems, and they can also cause enough problems overall to make an extraction necessary. To deal with decay at this stage, we can provide root canal therapy to remove bacteria and infected tissues before sealing the area and providing protection.
Root Canals Also Help With Dental Injuries
A root canal can address more than just cavities. Sometimes, internal issues occur because after a physical injury. You can be especially vulnerable if physical trauma exposes your tooth by breaking your enamel. At this point, it can be important to undergo root canal therapy before there are complications.
Restoring Your Tooth After Your Treatment
While a root canal will stop problems linked to advanced decay or physical trauma, additional treatment will be needed to make sure your tooth is safe and supported. We can provide a custom dental crown for protection after your procedure. This restoration is carefully designed to fit over your tooth without interfering with its neighbors or disrupting your bite function. By using porcelain-made crowns to take care of patients, we can provide lasting protection for a tooth while preserving your smile.
Talk To Your Leawood, KS Dentist To Schedule Root Canal Therapy
In some cases, it will be necessary to perform root canal therapy to save a tooth that is badly hurt or affected by decay. Dreem Dentistry is ready to provide this service, just as we are ready to take on different oral health issues by offering a range of beneficial procedures. If you have questions about a particular issue with your smile, or if you are ready to set an appointment, please call our dentist's office in Leawood, KS at 913-681-5500 to learn more.