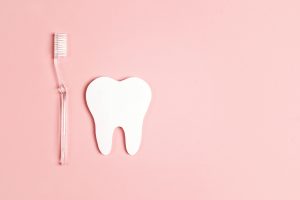 While you may do everything in your power to keep your teeth happy and healthy, sometimes life has other plans. Indeed, preventive dental care is the name of the game when it comes to prioritizing your health, but restorative dentistry is often needed as a backup option when oral bacteria and other concerns decide to wreak havoc. Because no preventive routine is perfect, it is only natural that issues such as cavities and periodontal concerns arise. In today's blog, your Leawood, KS dentist takes a look at one of the most common restorative treatments we encounter – the dental crown – and discusses how one may be used to address a number of issues.
Preventing Infection from Spreading
One of the most common oral health concerns out there involves hyperactive oral bacteria running amok. As they feed off of the food particles and sugars we consume, they secret destructive acids that eat away at our natural teeth, causing cavities to form.
Indeed, dental decay is no stranger to millions of individuals every year, and many people experience it in some form or another at least once during their lives. Without proper treatment, the infection will continue to spread and become worse until it has consumed your entire structure. In cases such as these, teeth either fall out on their own or require extraction to protect other teeth.
In its early stages, decay can be managed with the help of a composite resin filling or a dental crown. The crown consists of a custom cap that is placed over the affected area securely. What's more, it adheres to the shape of your tooth so you can ensure your structure remains protected from harmful bacteria that may be present.
Ensuring Proper Healing
Another major purpose a dental crown restoration serves is to help ensure your teeth heal properly. Take, for example, an individual who requires a root canal treatment. Because decay has spread internally and affected the inner dental pulp and roots, your dentist will need to remove this pulp and fill the canals with dental material to mitigate structural damage. What's more, a crown is often placed atop the indicated tooth so that it can remain protected while it heals. To learn more about this process, reach out to our team today.
A Lifelike Solution
Traditional crowns consist of a special metal, but these options are often noticeable and can detract from the quality of your smile. As an alternative, make sure to ask your dentist about our lifelike crowns that mimic the natural appearance of your teeth.
Restore Your Smile Today
Contact Dreem Dentistry in Leawood, KS by calling 913-681-5500 to learn more about the many roles crown restorations can serve, or reach out to our team to schedule your next appointment today.