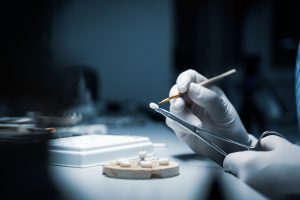 In our previous blog, we discussed the many variables that have a negative impact on your smile's health, as well as what to look out for when it comes to handling gum disease. Indeed, the list of factors that negatively influence your grin is much longer a list than the factors benefiting your smile. This means that we must take extra care to ensure proper protection. In today's blog, your Leawood, KS dentist takes a look at instances in which crowns may be helpful in protecting a tooth, as well as how a partial crown may be warranted.
A Myriad of Concerns
It goes without saying that nearly anything can negatively impact your health. From dental decay and infection to bruxism and everything else in-between, there is not much you can truly rest assured of. Because of this, it is imperative we implement a thorough preventive dental routine in order to ensure our smile's best interest and protection.
While preventive dentistry is the name of the game when it comes to maintaining a healthy smile for life, sometimes life has other plans. Indeed, it is possible that you could be doing everything correctly minus forgetting one area, and that is unfortunately all it takes. In cases such as these, your dentist will encourage you to turn to restorative treatment to help.
Preserving Natural Teeth
When it comes to your natural smile, your dentist's last want is to remove a tooth. In fact, preserving your natural teeth is often the top priority, right behind doing what is best for your health.
Because dental decay is the most common oral health concern, there are a variety of restorative options to address the concern in many stages. At its earliest, you might pursue a filling to address your cavity, whereas, in later stages, a root canal procedure might be more appropriate. In either case, you may want to look into a partial crown to further chances of successful treatment.
A dental crown consists of a hollow cap that is placed over an infected tooth. What's more, it can be custom-tailored to fit snugly and mimic the angles and shape of your natural structure. In cases where the entire tooth does not need coverage, a partial crown can be crafted to specifically address the area in question. For more information about this process, reach out to our team today.
An Added Boost of Strength
It is one thing to remove signs of infection, but it is another to ensure adequate healing with a boost of protection. Dental crowns – both full and partial – afford your tooth an extra layer of protection while it heals, further increasing the chances of successful treatment.
Learn More Today
Contact Dreem Dentistry in Leawood, KS by calling 913-681-5500 to learn more about your restorative dental options, or schedule your appointment with our team today.