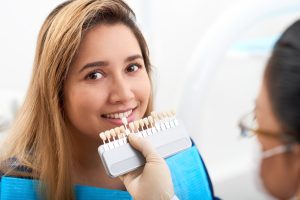 It goes without saying that there are several factors that can threaten your oral health and cause significant damage. What's more, your chances of experiencing tooth loss increase greatly, a phenomenon that nobody wants to go through. For some, however, an effective preventive routine and routine checkups are enough to promote a healthy smile for life, making the biggest concern noticeable blemishes. In today's blog, your Leawood, KS dentist takes a look at times when smiles are riddled with noticeable discrepancies, and how porcelain veneers offer a permanent solution.
Addresses Multiple Discrepancies
While a healthy smile is certainly the top priority, noticeable blemishes can be damaging to one's confidence. After all, many individuals associate a vibrant grin with positive self-worth, and as little as a tiny chip can throw it off. The only thing worse than this is when your smile is riddled with not only multiple cosmetic concerns, but a variety of them as well. It would be an immense amount of work and effort to attempt to address them with just whitening or bonding and contouring alone. What's more, these treatments may not even be able to fix your concerns.
In times such as these, the need for an all-encompassing treatment is made prevalent. The question is, though, how can this be accomplished? Fortunately, your dentist might have a solution in the form of porcelain veneers.
Highly-Lifelike Porcelain
Cosmetic dentistry involves exactly that – cosmetically treating your smile to enhance its appearance. When your grin is riddled with a variety of stains, chips, cracks, and even gaps between teeth, your most efficient and effective manner of addressing them will probably involve the use of porcelain veneers.
Porcelain veneers are ultra-thin shells of highly lifelike dental porcelain that are placed on the front of your structures. They are minimally-invasive in nature, requiring only a small amount of enamel sculpting to place. What's more, they are bonded to the front of your structures with the help of a dental cement, offering a permanent solution to noticeable blemishes.
A major benefit from the use of veneers involves a custom-made enhancement. The material used in their creation is chosen because it closely mimics the natural texture of a tooth. In other words, they are custom made to provide a near seamless finish. For more information about this process, reach out to our team today.
An Enhanced Smile
Health is always going to be a top priority, but that does not mean you should not love the smile you are in as well. Cosmetic dentistry affords many individuals a chance at obtaining that perfect grin without excessive or invasive treatment to do so.
Learn More Today
For more information about cosmetic dentistry or to schedule your next appointment with our team, contact Dreem Dentistry in Leawood, KS by calling 913-681-5500 today.