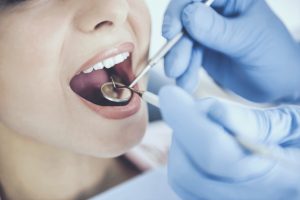 While scenarios involving tooth pain or other oral concerns can be difficult to ignore, there are also a number of issues that you may not even be aware are taking place. For instance, the early warning signs of decay, infection, and more can be hard to identify without the help of a professional. What's more, many concerns do not immediately begin as a noticeable pain, meaning that you could be suffering the early stages of decay or infection and not even know it. In today's blog, your Leawood, KS dentist would like to emphasize the importance of attending routine checkups and how they contribute to a healthy smile.
It Prevents Minor Concerns from Turning Major
As we mentioned above, a number of oral concerns do not immediately begin as a noticeable blemish or pain.  An example of this notion includes dental decay, which is a process that arises from harmful oral bacteria wreaking havoc on your healthy structures. Oral bacteria are present in every grin and virtually impossible to remove entirely, so we must ensure proper preventive steps are taken to keep them from multiplying and destroying your health.
To keep these bacteria at bay, your dentist will recommend a combination of important steps, including routine brushing and flossing as well as attending a dental checkup and cleaning at least once every six months. This timeline allows our team to monitor the development of your smile while also ensuring that minor concerns or potential threats do not continue to develop into larger ones. For more information about this process, reach out to our team.
It Removes Deposits of Plaque
Another critical function of your checkup includes a detailed cleaning. During this step, our team will make sure to carefully but thoroughly remove deposits of plaque and tartar that have developed on and around your grin. Plaque begins to accumulate as the day goes on, which is why it is crucial to brush at least twice a day. What's more, this bacteria-laden substance can nestle deep between teeth and gums, making it difficult to remove in its entirety. For this reason, a professional cleaning can help.
Providing a Preventive Boost
When it comes to your oral health, time is a factor that certainly does not play into your favor. Indeed, unlike a stomach ache or similar concern, oral issues will not go away or get better with time. In fact, it is quite the opposite. To best ensure a healthy smile for life, preventive steps taken through dental checkups and cleanings, as well as brushing and flossing consistently at home, are all necessary.
Learn More About Your Smile
For more information about your preventive dental routine, or to schedule an appointment with our team, contact Dreem Dentistry in Leawood, KS by calling 913-681-5500 today.