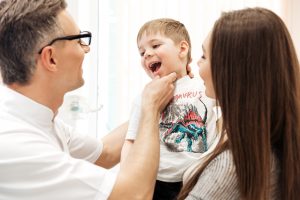 Attending a routine checkup and cleaning is a necessary part of maintaining excellent oral health. What's more, this is even more true when it comes to younger grins. Indeed, there is much to consider when adhering to a preventive routine, as yours should be even more involved than you might have initially thought. In today's blog, your Leawood, KS dentist would like to discuss the importance of preventive care for your child's smile and how our team is here to help.
It is Never Too Early to Start
Excellent preventive care begins with a thought-out plan. An important factor to consider here is when to start. Indeed, the earlier you instill these excellent habits and routine care, the better the chances of obtaining a lifelong grin. For our younger patients, we recommend bringing them in either at the arrival of their first tooth or around their first birthday.
During this time, we will familiarize our little one with our office and environment, as well as ensure healthy development. At around age three we will begin to provide routine checkups to make sure that everything is good to go! For more information about this process, contact our team today.
Attending Routine Appointments
Another important aspect of children's dentistry and preventive care is making sure to bring them in for a professional examination and cleaning. During this visit, we will gently but thoroughly check for any signs of potential threat or damage to your little one's teeth. This can include the effects of cavities, plaque buildup, chipped structures, and more.
In addition to the exam, we will provide a gentle cleaning to help rid deposits of bacteria-laden plaque and tartar buildup. To do so, we simply remove the substance and polish the teeth to make it difficult for plaque and tartar to gather in the future. At this stage, we recommend bringing your child in for a routine appointment at least once every six months in order to monitor their development effectively and ensure minor concerns do not develop into major ones.
A Boost of Strength
Because younger grins are constantly developing and evolving, they can be at even more of a risk for certain concerns. To combat this, our team can provide a boost of strength to protect their teeth in simple treatments known as dental sealants and fluoride treatments. The former involves applying a thin layer of dental acrylic to the surfaces of the back molars so as to prevent harmful bacteria from nestling in nooks and crannies. The latter involves applying a topical gel to the front of the teeth that help boost the strength of your child's natural enamel to protect from other harms.
Schedule Your Little One's Visit
For more information about the importance of preventive care and tiny smiles, contact Dreem Dentistry in Leawood, KS by calling 913-681-5500 today.