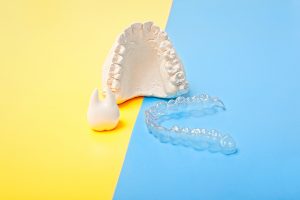 With the advent of new technology, dental procedures such as implants, root canals, and more can be performed at a more consistent rate, offering reduced trauma and heal times. Some concerns that arise – such as misaligned teeth – can be addressed just as easily, and often do not require much to accomplish. In today's blog, your Leawood, KS dentist discusses the benefits of Invisalign® invisible aligners, including how they can straighten teeth in a discreet manner.
Invisible Aligners
As a child progressing into the teenage years, braces seem to be a common phenomenon. After all, most individuals can recall knowing a personal friend or classmate who had them. While it is an effective way to correct uneven teeth, metal brackets are very noticeable and difficult to manage at times. In fact, braces affect your diet, oral function, and more. For these reasons, many people think of the treatment in a negative light, and hope to avoid them at all costs. The problem arises, however, when crooked teeth need to be addressed in order to better manage your oral health.
While misalignment may not seem like a major concern other than its cosmetic effects, on the contrary, it can actually impact your health in more ways than you may think. For instance, crooked development can result in sub-optimal placement that eventually leads to unstable security. In other words, the angle at which oral structures develop may not support the pressure of your bite effectively, resulting in significant damage or even tooth loss. Because of this, it is important to seek treatment.
Gradual Guidance
As an alternative to bulky, traditional braces, your dentist may recommend the use of Invisalign® aligners. These virtually invisible aligners are digitally designed to steadily guide your teeth into the optimal position. The process consists of acquiring your measurements through x-ray, then creating a 3D render to construct your appliance. The treatment allows the ability to successfully straighten your grin without the inconvenience to your smile's appearance. The best part is that the correction happens in stages, so after your structures align properly, we will move on to the next step of movement. For more information about this process, reach out to our team.
Enjoying Your Grin
Proper function is the ultimate goal when it comes to your smile, but you should not have to compromise its appearance to achieve that. The next time you visit your Leawood, KS dentist, ask about your options for aligning your teeth, and inquire into how Invisalign® aligners might be the best way to help you achieve the smile you deserve.
Schedule Your Appointment
Contact Dreem Dentistry in Leawood, KS by calling 913-681-5500 to learn more about the importance of a straight grin or to schedule your visit with our team today.