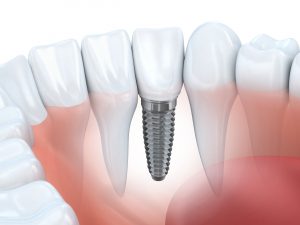 Concerns such as decay and infection are arguably the most threatening oral health complications out there. When caught in their early stages, these problems can be remedied quickly and efficiently, typically with some form of restorative treatment. If permitted to progress, however, you become increasingly more at risk for major complications and even tooth loss. In today's blog, your Leawood, KS dentist looks at the effects of decay progression and losing your structures, as well as how a dental implant can help restore function.
A Secure Connection
Whether you are aware of it or not, your mouth consists of multiple parts that work together to achieve your basic oral functions. For example, a tooth contains both a crown and a root. The crown is the noticeable top portion that is used to bite, chew, and otherwise help you eat.
The roots, however, make this possible due to their secure connection with the jaw bone, allowing your crowns to properly absorb the pressure of your bite. When you lose a tooth due to decay or other means, however, you are also losing that artificial anchor that helps your function. Fortunately, that is where dental implants come in to help.
Restoring Function
Unlike traditional methods, dental implants address the functional importance of your structures as opposed to only addressing the cosmetic aspect. The biocompatible post acts as an artificial root by creating a secure connection with the jaw bone, which then heals around the prosthetic. Atop the post will sit an abutment, which is used to secure the crown restoration.
Not only does an implant restore the function of a root and allow your restoration to absorb your bite's pressure, but it also provides a thorough connection to ensure optimal function. In other words, your bite will function almost like new! For more information about this process or to schedule your appointment with our team, contact our office today.
A Natural Finish
One of the biggest misconceptions is that cosmetic dentistry only handles appearance while restorative dentistry only addresses function. While function is a major goal, we want our clients to be comfortable in their smile as well. This means creating a custom restoration that closely resembles your natural tooth. We utilize high-quality materials and shade-match technology to ensure that your new crown will blend right in to your smile, providing a near seamless result and natural finish. What's more, we play close attention to detail in that we shape and texture your restoration to closely resemble that of a natural tooth.
Contact Our Team
For more information about the benefits of dental implants and restorative dentistry, or to schedule your appointment with our team, contact Dreem Dentistry in Leawood, KS by calling 913-681-5500 today.