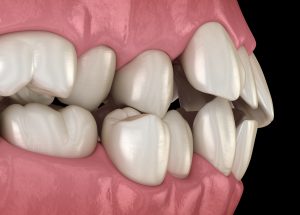 From a young age, your guardians have emphasized the importance of excellent oral care by helping you create and stick to a routine of brushing and flossing. For most, the biggest threat to their oral health is harmful oral bacteria that cause a slew of concerns ranging from decay to infection and even tooth loss. For others, the biggest problem can arise from a crooked smile. While the latter may seem more cosmetic in nature, there are actually a number of problems that can arise if it is not handled in an efficient manner. In today's blog your Leawood, KS dentist will discuss the true dangers that accompany an uneven grin and how Invisalign® aligners can help.
More Than a Cosmetic Concern
Many individuals perceive crooked or uneven teeth to be a strictly cosmetic concern, only affecting the evenness of their smile. In reality, the problem goes much deeper than that, as it can and will affect not only your smile's structural integrity, but its function as well. When oral structures develop unevenly, they can crowd other teeth and cause them to come in crooked as well. What's more, the roots of your teeth are likely uneven in the jaw, causing the structural integrity of them to be sub-optimal or compromised. This will ultimately result in teeth becoming less secure and therefore less able to withstand the pressure of your bite, causing difficulty when biting or chewing.
In addition to functional and structural difficulties, simple tasks such as cleaning your grin will become more and more difficult, as overlapping or crowded structures can harbor oral bacteria and cause difficulty reaching and, subsequently, removing them.
The Fear That Accompanies Correction
When it comes to straightening a smile, many people hold a certain anxiety of seeking treatment for fear that their solution will be bulky, noticeable, and downright embarrassing. As an alternative to the noticeable metal brackets that braces display, Invisalign® aligners afford the ability to address the misalignment while doing so in a more discreet manner. They are custom-designed to gently but steadily guide your teeth back in place utilizing a new appliance at intervals to do so. For More information, contact our team today.
A More Subtle Solution
A major benefit that Invisalign® has over other traditional methods is the ability to correct an uneven grin in a discreet manner. They are made from clear, BPA-free acrylic that are placed over the teeth like a mouthguard. This also means that they do not require bonding to the surface like braces do, and offer a virtually invisible finish. Because they can slip on and off, progressing through your treatment is much simpler and straight-forward.
Schedule Your Appointment
Having a crooked smile can ultimately require extensive correction, and we are here to make that process easier. Contact Dreem Dentistry in Leawood, KS by calling 913-681-5500 to learn more or schedule your appointment with our team today.