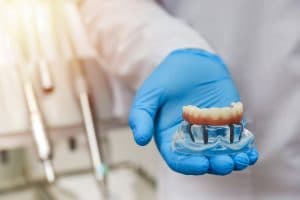 Losing a tooth as an adult can be a troubling process for many. What can be worse, however, is choosing not to replace the crown once it's gone. Indeed, routine preventive care both in-office and at home is needed to ensure the health of your smile, and skipping even a portion of this routine could have negative effects in the long run. This can include decay, infection, and inevitably structural loss. In today's blog, your Leawood, KS dentist will address what you can do to best preserve your oral health and restore function through the help of a dental implant.
The Effects of a Single Missing Tooth
Teeth serve more functions and roles than just helping you eat. In fact, your oral structures are used for other purposes such as enunciation, biting, chewing, protecting your oral health, and even keeping your jaw bone strong and intact. What this means, essentially, is that losing a single tooth can have drastic effects on your overall structure and function.
Every structure is comprised of a crown and root, which is embedded in the jaw. For structural support and acts as an anchor. This secure connection allows your teeth to absorb the pressure of your bite properly. If you do not replace a missing tooth, however, you will begin to have difficulties with biting and chewing as your bite must readjust to accommodate the missing structure. What's more, the section of bone that no longer houses a root will be subject to deterioration over time, making getting implants down the line much more difficult as there will not be enough bone to support them. Additionally, losing a tooth to decay or infection and not replacing it increases your chances of losing even more down the line.
When You Lose Multiple Adjacent Teeth
Once a structure is lost to disease or decay caused by harmful oral bacteria, the chances of losing more surrounding teeth increases drastically. The reason for this is because even though the compromised tooth is gone, the infection itself may still be present. In fact, oral bacteria tend to thrive in warm, moist environments, making the gum line an ideal location. Fortunately, there are solutions to address consecutive structures such as an implant-retained custom dental bridge restoration.
A Total Smile Makeover
One of the biggest benefits of implant dentistry is the ability to address as few or as many structures as needed. In other words, you can seek restoration for one tooth, several teeth, or even all with an implant-retained denture. For more information about your possibilities, make sure to contact our team today.
Schedule Your Appointment
Don't let the fear of prosthodontics get in the way of a complete, lifelike smile. Contact Dreem Dentistry in Leawood, KS by calling 913-681-5500 to find out more about your dental implant options, or to schedule a visit with our team today.