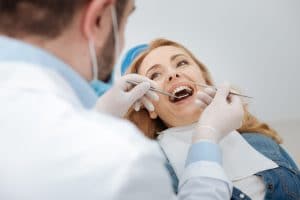 As we move forward with 2021 and lean into the second month of this year, our team encourages you to take a look at to do's that may not have been addressed in January. After all, the new year often holds high hopes for a number of factors one wishes to address, but sometimes every goal cannot be achieved. In case it was pushed off, your oral health is one that your dentist will encourage does not spend much time on the back burner. In today's blog, your Leawood, KS dentist will address what occurs during your preventive dental visit as well as how major of a role it plays in your overall oral health.
Examining for Abnormalities
Many individuals look at their hygiene regime and believe that all it takes is brushing and flossing your teeth regularly. While this step is very important, it only represents a portion of the overall picture, which also includes paying mind to the foods and beverages you consume and how that impacts your teeth as well as attending routine dental visits. In fact, each of these factors need to occur in conjunction in order to pave the way toward a lifelong, healthy grin.
When you visit our office for your checkup, your dentist will begin by examining your smile. Keep in mind that this is more than a cavity hunt, however, and actually serves to identify a number of concerns. Such items we look for include signs of damage or trauma, such as that from a cracked or chipped tooth, healthy development, or signs of infection and decay. We pay close attention to not only your teeth, but your surrounding tissues and structures as well to ensure that everything is as it should be.
Removing Oral Bacteria
In addition to examining your smile, we may provide a dental cleaning to remove deposits of harmful bacteria. Oral bacteria are present in every smile, but it is up to us to keep them at bay and prevent them from causing damage to our healthy teeth. During this portion of your visit, we will carefully but thoroughly remove deposits of plaque and tartar to prevent harmful bacteria from nesting, then we will finish the process off by polishing each tooth to smooth out the surface and prevent easy attachment of microorganisms.
Ensuring Your Overall Oral Health
While many individuals may have anxiety about visiting the dentist for fear of scolding or other extensive procedure, bear in mind that attending a checkup once every six months or twice a year is meant to keep your best interests in mind. In other words, this is an opportunity to have a professional check for any minor points of concern so they may be addressed before becoming major problems. For more information, contact our team today.
Schedule Your Visit
To learn more about the benefits of a routine checkup, or to schedule your next visit with our team, contact Dreem Dentistry in Leawood, KS by calling 913-681-5500 today.