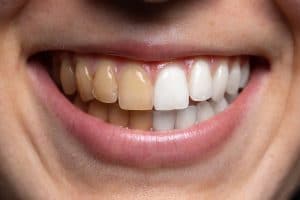 While you may be taking every step to ensure a lifelong smile – including brushing and flossing regularly, visiting our team twice a year for a routine examination and cleaning, and even paying extra mind to the foods and beverages you consume as well as their effects on your teeth – your smile will continue to fade over the years. Age plays a major role that, while it may not warrant restorative measures, may require cosmetic touch-ups to enhance. In today's blog, your Leawood, KS dentist will look at the way we can brighten your grin multiple shades in a fast and efficient manner.
A Brighter Shine
It goes without saying that our grins endure a significant amount of wear and tear over the years. As age plays a major factor, it is only natural that your once vibrant teeth eventually fade to a more dull, lackluster hue. What's more, you will develop stains from a number of circumstances, including eating or drinking items with high acidity or darker pigments, such as coffee or tea, as well as if you smoke or drink regularly. With all of this in mind, it is only natural your smile loses a bit of its shine. Fortunately, it does not need to stay that way, as our team can utilize a bleaching treatment to lift those stains and enhance your appearance once more.
Professional Treatment
Our office can provide a teeth-whitening procedure that consists of applying a topical bleaching gel that is safe but strong in order to lift those threatening stains. We offer a number of specific treatments to address a variety of cosmetic concerns, which means how long the gel is applied and the exact steps in the process are really dependent on which option you chose to go with. We also offer take home whitening trays that allow you to utilize quality treatments at home at your own convenience! For more information, contact our team today.
The Pitfalls of Over-the-Counter Options
You may be wondering what the difference is between professional whitening and over-the-counter treatments, and the answer is – well, a lot! Many over-the-counter box treatments advertise the same results as attending a dental visit, however this is seldom the case. Oftentimes it requires the need to purchase a number of treatments before you are able to see a noticeable cosmetic difference, as opposed to professional treatment in which you are guaranteed a brighter smile up to a number of shades brighter at a considerably expedient rate.
A Brighter Shine
Don't be fooled by misleading over-the-counter teeth-whitening treatments, as they often require multiple treatments with minimal results. Contact Dreem Dentistry in Leawood, KS by calling 913-681-5500 to learn more about the benefits of professional care or schedule your visit today.