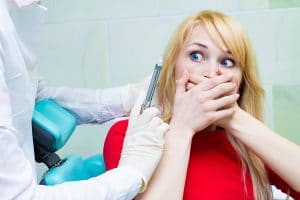 Even with routine preventive care, a number of concerns can still threaten the integrity of your smile. From cavities caused by decay to even total tooth loss, your dentist can help with a restorative procedure to help complete your grin once more. For many people, however, going to the dentist is a frightening thought, and often one that people choose to move forward with when their dental concern has advanced drastically past the point of a simple fix. In today's blog, your Leawood, KS dentist will address how we can help you overcome your dental anxiety with the use of sedation.
Oral Sedation
For many individuals, dental anxiety is a very real concern that impacts their comfort and calmness when attending their visit. To combat this, your dentist may recommend the use of sedation. When anxiety sets in, it can cause your visit to be more of a chore than it needs to be, causing heightened levels of stress and discomfort. With the use of an oral pill or liquid, however, your anxiety can be lessened with a sedative, allowing a smoother procedure for both you and your dentist. In most cases, an oral medication is taken prior to the start of your procedure in order to give the sedative time to work into your system and take effect. When your procedure is complete, the effects may take some time to wear off, meaning you should plan to have someone drive you home from your visit. In cases where dental anxiety is severe, we can recommend an oral sedative the night before your procedure in order to have a proper rest before your visit.
Nitrous Oxide
For mild to moderate forms of anxiety, your provider may recommend the use of nitrous oxide to take the edge off during your treatment. Nitrous oxide is designed to be a safe and comfortable form of sedation that involves placing a mask over the nose and breath into. Since it is a gas that you exhale immediately after inhaling it, it will wear off as soon as treatment is completed and the gas is no longer in use. This means you can drive yourself home safely after your procedure. For more information, contact our office today.
IV Sedation
As an alternative to Nitrous Oxide or medication, you may also seek IV sedation. This is administered intravenously from a tube into the bloodstream. While it won't cause you to fall asleep, it will help cause you to feel extremely relaxed. If you have preexisting medical conditions such as glaucoma, sleep apnea, or other serious health issues such as a previous heart attack. For more information, contact our team today.
Learn More
Don't let your fear of the dentist prevent you from taking care of your smile. Contact Dreem Dentistry in Leawood, KS by calling 913-681-5500 to learn more or schedule your appointment today.