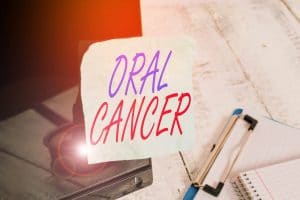 When most people attend their dental visit, their biggest concerns typically revolve around cavities, decay, and potential for tooth loss. In fact, these are often the driving factors for seeking a checkup, as a number of people associate the quality and health of their smile with their level of confidence. While these are great reasons behind attending a formal visit, they are not the only concerns your dentist will check for and help with. In today's blog, your Leawood, KS dentist will discuss the process of performing an oral cancer screening and how it aids in preserving your health.
How it Impacts Your Health
Oral or mouth cancer can affect anyone, from young children to elderly adults and everyone in-between. In 2018 alone, it affected approximately 300,000 people, and roughly half of those affected perished. That being said, it is not a concern to be taken lightly.
Your risk for developing oral cancer increases about 15 times with regular use of tobacco or alcohol, and you may also be at a higher risk if you have experienced HPV infection, chewing paan, and consistent sun exposure to the bottom lip. If you suspect you may be at risk for developing mouth cancer, or you believe you are expressing symptoms, contact our team today to schedule a screening.
Identifying Warning Signs with A Routine Checkup
Oral cancer genuinely begins with the development of a painless white patch that can form on the tongue, throat, lips, or mouth. If left untreated, this patch can thicken and develop red spots and ulcers in addition to continuing to grow. This patch will also increasingly become more painful as the situation develops, and could ultimately cost you your life.
As a method of staying on top of this concern, your dentist will perform an oral cancer screening during your routine checkup to ensure all is well. This is typically performed after examining for structural damage, and consists of your dentist carefully examining your lips, tongue, cheeks, throat, and the roof and bottom of the mouth for any signs of white patches. They also pay mind to any other abnormalities such as lumps or rough patches to ensure there is nothing threating your oral health.
Acting Early
Like many other diseases, catching these concerns early on is the ideal way to track it and prevent future complications. By building the screening into our routine checkups, we are able to provide you the quality care that takes your smile one step closer to maintaining its strength and vitality.
Schedule Your Visit
To learn more about the risks associated with oral cancer or to schedule your appointment with us today, contact Dreem Dentistry in Leawood, KS by calling 913-681-5500.