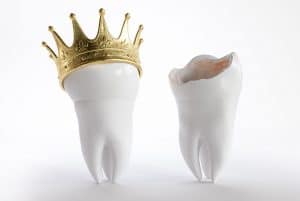 The good thing about modern restorative dentistry is that you have a wide range of options for dealing with nearly kind of problem your teeth might develop. For example, when many people expect to need a full restoration, such as a dental crown, to restore their tooth, they're often surprised to learn that their dentist can achieve optimal results with a more conservative restoration. In other cases, patients may be surprised to learn that a dental crown can save their tooth by fixing more severe tooth damage.
When a dental crown is the best option
Modern dental crowns are able to achieve more than you might expect when it comes to restoring and improving your smile. A dental crown is a complete replica of your tooth's healthy, natural crown, and the restoration is made to be bonded in place over the tooth's structure. This level of restoration may be necessary when a tooth becomes so significantly damaged that most or all of its natural crown structure has been compromised. For instance, a significant fracture in the tooth, or a large piece being broken off of it, could leave the tooth vulnerable, weak, and in need of a full dental crown to restore it.
What placing a dental crown requires
One of the reasons why dental crowns are typically reserved for more serious forms of tooth damage is because placing the crown requires modifying your tooth's crown structure more than other restorative treatments. For a dental crown to restore the tooth, it must closely mimic the tooth's size, shape, and appearance. This means the tooth's natural structure must be sculpted to allow the crown to sit comfortably and flush with the rest of your smile. While this may be necessary in severe cases of tooth damage, your dentist may be able to restore a less severely damaged tooth with a more conservative restoration.
When a more conservative option is appropriate
When it comes to restoring a tooth's health and integrity, the goal of your treatment should focus as much on preserving your tooth structure as it does on fixing it. The highly involved nature of preparing a tooth for a full crown means that your dentist may prefer to restore your tooth with a less comprehensive option, such as a partial crown or porcelain veneer. If appropriate, a more minimally invasive treatment can help you preserve more of your natural tooth structure and improve its long-term health and integrity.
Learn if your tooth needs a dental crown
If your tooth is severely damaged, then a dental crown might be the only viable way to restore it. To learn more, schedule an appointment with us by calling Dreem Dentistry in Leawood, KS, today at 913-681-5500. We also serve patients who live in Overland Park and all surrounding communities.