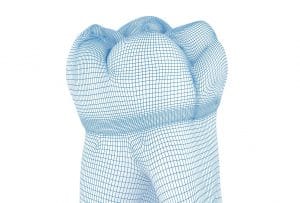 When your natural teeth become compromised in certain ways, the risks that the damage poses aren't always obvious. For instance, you may not realize that a crack in your tooth could leave its inner tissues and nerves exposed to bacterial infection. Or, you may not suspect that the tooth may be lost or require extraction if the damage gets worse. The potential long-term risks to your tooth stem from the fact that a damaged tooth doesn't repair itself. In order to save and preserve the tooth, your dentist will have to carefully examine it and help you choose the most appropriate restoration to stop the damage from getting worse.
The importance of preserving your teeth
Preventing the loss of a natural tooth is important for many different reasons. Once it's lost, the tooth's absence can have multiple negative impacts on your remaining natural teeth, your dental ridge, oral tissues, and more. These can include one or more of your remaining teeth shifting toward the empty space on your dental ridge to take up the slack in your bite's balance. Also, the bone structure in your dental ridge can grow weaker as the loss of your teeth's roots can lead to reduced stimulation in your jawbone.
Conditions that raise your risks of tooth loss
For your immediate and long-term oral health, the best way to preserve your smile is to prevent the loss of your natural teeth. Typically, this means sticking consistently to a good dental hygiene routine, including brushing your teeth at least twice and flossing at least once every day. This helps you control the buildup of dental plaque that leads to common chronic oral health concerns, and also gives you the chance to keep a close eye on the health and integrity of your teeth. If you notice that your teeth are worn down, that one of them has developed a crack, or that a piece has broken off a tooth, it's important to schedule a visit with your dentist as soon as possible to restore it.
Choosing the right dental restoration
Today's dental restorations come in a wide range of shapes and sizes, and are designed to address specific types of tooth concerns with optimal precision. Therefore, choosing the right restoration for your tooth requires a comprehensive examination by your dentist to determine the exact nature and extent of its concern. For instance, if your tooth is cracked, then it might be repaired by bonding its fracture, or by placing a veneer over the tooth's front surface, depending on how severe it is. In some cases, a tooth may require a complete dental crown to successfully repair and restore its strength and integrity.
Learn how we can save and restore your tooth
The right custom dental restoration can help your tooth regain its strength, integrity, and healthy appearance before the tooth is lost or requires extraction. To learn more, schedule an appointment with us by calling Dreem Dentistry in Leawood, KS, today at 913-681-5500. We also serve patients who live in Overland Park and all surrounding communities.