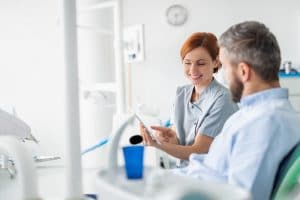 The importance of regular dental checkups and cleanings to your oral health is no secret. However, the significance of growing lax in your routine or skipping an appointment here and there might not be obvious until the consequences of it become noticeable in the form of poor oral health. Today, we take a closer look at the role that professional care plays in your overall oral health care routine, and why it matters that you don't skip any of your dental checkups and cleanings.
The point of a checkup and cleaning appointment
Checkups and cleanings are the only dental treatment that everybody requires on a consistent basis, even when their smiles have a clean bill of health. A checkup and cleaning appointment is also typically quick, involving a fast but thorough cleaning of your teeth and gums, as well as a detailed inspection to check for any warning signs of dental health concerns. Because the appointment focuses mainly on prevention, it's an important aspect of your overall dental hygiene routine. While you carefully clean your teeth of harmful, bacteria-rich plaque each day, your dentist or hygienist will have to professionally clean away any plaque that calcifies into tartar (or calculus).
The need for consistent dental visits
The reason it's important to brush your teeth at least twice and floss at least once every single day is because the bacteria you're meant to clean away will accumulate on them consistently. The same need for consistent care applies to your professional checkup and cleaning appointments. You may not always notice when you miss some plaque or when it calcifies into tartar. If it remains long enough, this buildup can lead to more serious oral health concerns, such as the development of decay in your tooth or the formation of gingivitis (the first stage of gum disease).
The danger of skipping an appointment
When you skip brushing or flossing your teeth even once, you have a greater chance of any plaque that's present turning into tartar by the time you clean your teeth again. If you skip a dental checkup, then any plaque and tartar that is present will have plenty of time to cause more damage to your teeth and/or gums. Skipping even a single checkup and cleaning can increase your risks of developing such concerns, and rases your chances of needing more extensive dental treatment by the time you visit your dentist again.
Schedule your next dental checkup and cleaning
Your smile's health and integrity depend on routine checkups and cleanings with your dentist, which is why it's important not to skip any of your regularly scheduled visits. To learn more, schedule an appointment with us by calling Dreem Dentistry in Leawood, KS, today at 913-681-5500. We also serve patients who live in Overland Park and all surrounding communities.