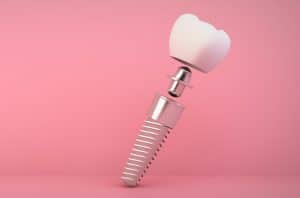 The best way to replace a lost tooth is to replace as much of it as possible, and with a restoration that mimics the healthy structure of your tooth as closely as possible. For many people, that makes dental implants, which are designed to replace your lost teeth roots, the most beneficial solution for replacing their lost teeth and rebuilding their smiles. Today, we examine if you're a good candidate for dental implants by answering a few common questions about qualifying for them.
Can dental implants replace multiple teeth?
Because dental implants are designed and placed individually, you may wonder if they're a good option for replacing multiple lost teeth. The short answer is that dental implants can replace any number of lost teeth with equally lifelike results. The extent of your tooth loss can determine the specific type of restoration you require, such as a dental crown for single lost teeth or a dental bridge for multiple adjacent lost teeth. If you've lost all of your teeth on your dental ridge, then a series of dental implant posts can be strategically placed to provide maximum support for your complete denture.
Can you get implants if you have gum disease?
Addressing the loss of your teeth is one thing, but tooth loss can occur for a number of different reasons, and the cause of your condition can impact your dental implant candidacy. For example, the most common cause of tooth loss is severe gum disease, which leads to tooth loss by eroding the periodontal tissues and jawbone structure that support your teeth roots. Before placing dental implants, your dentist may suggest undergoing periodontal treatment to get your gum disease under control and prevent it from eroding the supportive structures that your dental implants will rely on.
Can your jawbone's strength affect your implants?
In addition to the cause of your tooth loss, the consequences of it can also have an impact on whether you can receive dental implants now, or require prerequisite treatment first. For example, your dental implants will rely on the strength and integrity of your jawbone to be successful. Yet, the loss of teeth roots can cause it to lose mass and density over time. If your jawbone has grown too weak, then you may require jawbone grafting before you can successfully receive dental implants to replace your lost teeth.
Learn if you're a good dental implant candidate
If you've lost one or more teeth, then find out if you're a good candidate for replacing them with one or more dental implants. To learn more, schedule an appointment with us by calling Dreem Dentistry in Leawood, KS, today at 913-681-5500.